Man Utd: David Moyes expected hard start as Ferguson's successor
Last updated on .From the section Football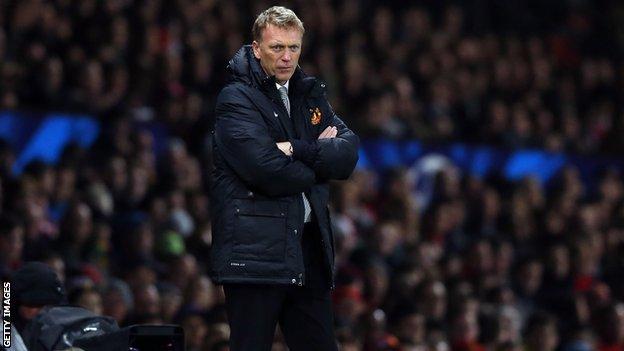 Manchester United boss David Moyes insists he always expected a difficult start to his tenure as Sir Alex Ferguson's successor at Old Trafford.
But Moyes, who left Everton to replace Ferguson, anticipated a testing opening to life at Old Trafford.
"I don't think it was ever going to be the case this was going to be easy and smooth after Sir Alex," Moyes said.
United lost 1-0 at Anfield on 1 September and were beaten 4-1 by City at the Etihad Stadium on Sunday.
But Moyes, whose side face Liverpool in the Capital One Cup on Wednesday, feels that the six-year contract he was given by United in May suggests the club's directors were not predicting a simple transition.
He added: "There were always going to be days like this and there might well be more days like this. I hope not, but there will be because that is football.
"It was always going to be tough following such a great manager with a great team and I think people with real football knowledge will know there are probably some changes to be made.
"It is not going to be made in one fell swoop. It is going to be done in time.
"That is why the Manchester United board realised the job that needed to be done was a long-term one."
Moyes concedes he was "shocked" by Sunday's derby defeat, but said he would not be dwelling on the 4-1 loss.
Asked whether the defeat shocked him, Moyes replied: "It did but it's gone now. We move on. To play again is the best way. You can't dwell too long on it."
A groin injury will keep striker Robin van Persie out of the Liverpool game but the Netherlands international could return against West Brom on Saturday.
Liverpool will have Luis Suarez available again on Wednesday after the striker completed his 10-match ban for biting Chelsea defender Branislav Ivanovic in April.
"I think any game after you've had a defeat, you want to get back," added Moyes.
"[Liverpool] is an important game for us - we want to do well in all the cup competitions and that's what we'll try to do."
And he played down the significance of striker Suarez's potential selection.
"It means Liverpool have got a really good player," Moyes said.
"Does it change the complexion [of the game]? I am not looking at Liverpool too much. I just know the qualities of Luis Suarez are very good."