Aidy Boothroyd: Northampton Town players had 'honest' meeting
Last updated on .From the section Northampton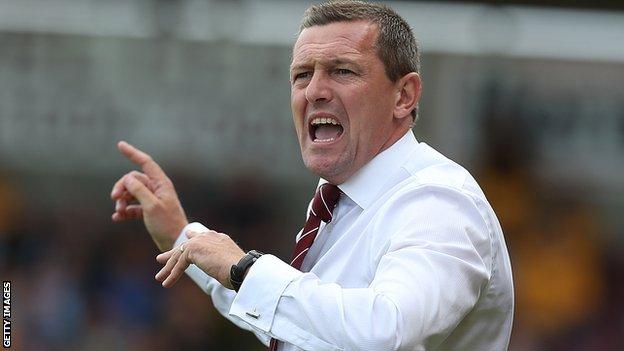 Aidy Boothroyd says Northampton Town are determined to turn their fortunes around after a productive team meeting.
The Cobblers, who are second from bottom in League Two, were called in on Sunday after the defeat to Mansfield.
Manager Boothroyd told BBC Radio Northampton: "It was a punishment for all us, really. We're judged on that league table at the end of the season.
"There were a lot of honest words spoken and constructive criticism for each other."
He added: "Last season we finished very high up and that brings its own expectations.
"There's been a lot to change around in a short space of time but I'm not in the game to be second from bottom. I'm here to be at the top end.
"It's a blip and we've got to put it right. As soon as we've got that win, things will start falling for us, people will start smiling and we'll get up the table."
Boothroyd believes managers have got to be able to be disciplinarians as well as motivators of their players.
"I start the season with a letter to all the players explaining what they can expect of me and what I expect of them," he explained.
"The top thing is that I'll be pushing them as individuals harder than probably anyone has and I'll expect more of them than perhaps they expect of themselves.
"That gives me the permission - when it's right - to have a go. That's not because I need to get my emotions out, but because it's the right thing to do.
"Those managers who throw teacups around, shout and go down that route all the time, those days are over.
"But if you want to be liked, you're not going to be in this job for long. It's important to have a respectful relationship."
Northampton took 53 points from a possible 69 at Sixfields last season, but they have won once and drawn with Scunthorpe in five league and cup games at home in 2013/14.
"It is hard to be at home at the moment but we've got a terrific record [there] in the 18 months and it's important we do the work to get the crowd behind us," said Boothroyd.
"They can help us but we've got to help ourselves first.
"In five games' time, we might be talking with more points than we had at that time last season. That's how quickly it can turn."