Celtic consider safe standing areas inside stadium
Last updated on .From the section Football181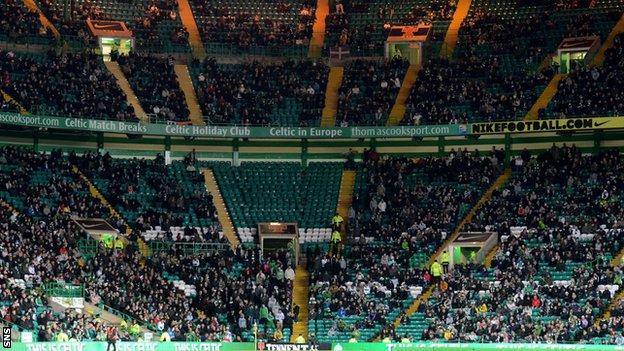 Celtic believe "it's time" to consider the introduction of safe standing areas within their stadium, according to chief executive Peter Lawwell.
Celtic and fans group the Green Brigade have clashed in the past over "lateral movement" in the stand during games.
"Some systems that are now deployed in Germany and other countries... it's time to give them a try," said Lawwell.
Standing areas have proven popular since their introduction to the Bundesliga.
And Celtic's chief executive said the "new systems" are "extremely safe" with the club keen to explore them further.
"We feel there is a new vibrancy in football that has come from Europe and is now in the UK," said Lawwell.
"It's an energy and youthfulness and the safest way of being able to manage that is through safe standing."
Celtic, in August, suspended plans to relocate fans in section 111 - where the Green Brigade sit - after reaching an agreement with supporters over a number of safety issues, including "lateral movement".
On the Green Brigade, Lawwell said: "We recognise that they bring an awful lot to the game, to the event here.
"But there are certain aspects of the behaviour that we would deem not safe. Therefore this would be the ultimate solution for that."
Lawwell explained the process that Celtic are set to undertake.
"I think we need to go to the safety committee at Glasgow City Council," he said. "They consult with the police, ambulance, fire service and building control, and we need approval from them.
"It's not legislation but I think Holyrood need a policy review, rather than legislation, with regard to allowing this to happen as well. We will apply for that."