Patrice Carteron expects to lose top TP Mazembe players
By Ian Hughes & Kennedy Gondwe
BBC Sport
Last updated on .From the section Football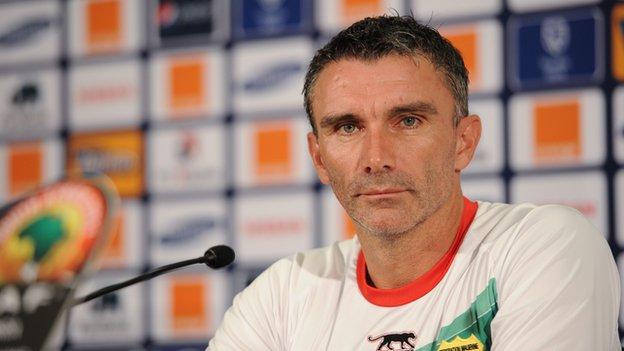 Patrice Carteron expects some of TP Mazembe's top players to leave for European clubs after the Confederation Cup.
The Frenchman took over the Democratic Republic of Congo side in July after resigning as Mali coach.
And he inherited a team full of African club champions, including Zambian stars Rainford Kalaba and Sunzu Stopilla.
Although he did not name specific players, Carteron told BBC Sport he is sure that some of the big names will leave Mazembe once the club's Confederation Cup campaign is over.
Mazembe face Stade Malien, of Mali, in the semi-finals of the competition, with the two-legged tie to be played in October.
"Most of the players have been here for a lot of years now and I'm sure some of them might leave to go to Europe, maybe after the Confederations Cup," said Carteron.
"We have to think about the future of the club. That is why a player like Salif Coulibaly came a few days ago from Mali.
"Some of the players here have twice been African champions and now they want to win the Confederation Cup. If they do, what would be their motivation afterwards?
"We have to let some of them go to Europe if there are clubs interested, and I know there are. So we have to look at other players."
It could mean Carteron could lose the services of the likes of Kalaba and Stopilla, two players he very much respects.
"Sunzu Stopilla is the best African defender, he has everything," Carteron added.
"And Rainford Kalaba reminds me of French footballer Eric Carriere, who was maybe one of the best French players. Rainford is clever, intelligent; everything he does is pure, beautiful football.
"I appreciate the mentality of the Zambian players. Most of them have great spirit."
While Carteron admits he will have to rebuild his team, he is confident he will be given the resources to do so.
Annd he insists he is thriving under the pressure of coaching the club who in 2010 became the first African side to reach the final of the Fifa Club World Cup.
"I am really happy because I have the opportunity every day to work in fantastic conditions. The president of the club [Moise Katumbi] has given me everything I want to prepare the team," he said.
"It is a strong club, I am happy to be here. Life is nice and quiet in Lubumbashi but, to be able to work and progress, that is a good thing.
"To coach a team in a stadium like this, with a fantastic atmosphere and with the crowd supporting the team every minute, it is unbelievable and a great experience.
"At a big club in Europe or Africa, it is normal for a coach to have pressure. But I like this pressure, I like this job, I like football. When you work very hard and when you win a game, it is a fantastic feeling. I work hard every day for that."