Egypt reveal 2014 World Cup play-off venue
Last updated on .From the section Football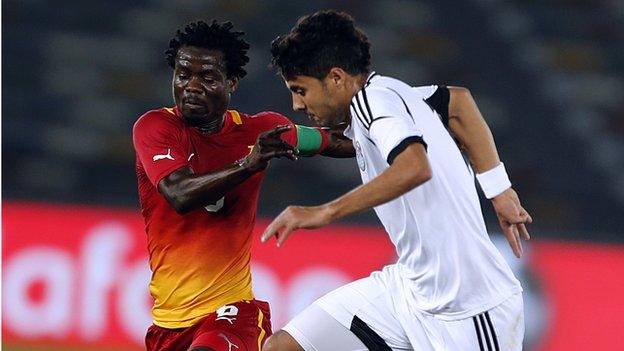 Egypt have revealed they will use a military stadium in Cairo to host Ghana in the second leg of the sides' 2014 World Cup play-off.
It will be the first time Egypt have played in the capital since October 2011, following the Port Said tragedy and civil unrest in the country.
The Pharaohs' recent home matches have been in the Red Sea resort of El Gouna.
But they have chosen the 30,000-capacity 30 June Air Defence Stadium for the crucial match against Ghana.
It will be played on 19 November, with kick-off set for 1900 (local time).
The two-legged tie - one of five in the final African qualifying round - will decide who makes it through to next year's finals in Brazil.
Egypt's Minister of Sports Taher Abu Zeid announced the decision for the venue on Tuesday.
And it was also confirmed that fans will be allowed to attend the game.
Supporters have largely been banned from matches in Egypt since the Port Said riots at a match between Al Ahly and Al Masry that claimed the lives of more than 70 people.
Domestic football was also suspended in the country and although it resumed after a year's absence the league was again stopped in July after the military overthrow of president Muhamed Mursi's government and subsequent violence.
Ghana had already announced that the first leg of the tie will be played at the Baba Yara stadium in Kumasi on 15 October.