Kilmarnock chairman Michael Johnston explains ticket deal
By John Barnes
BBC Scotland
Last updated on .From the section Kilmarnock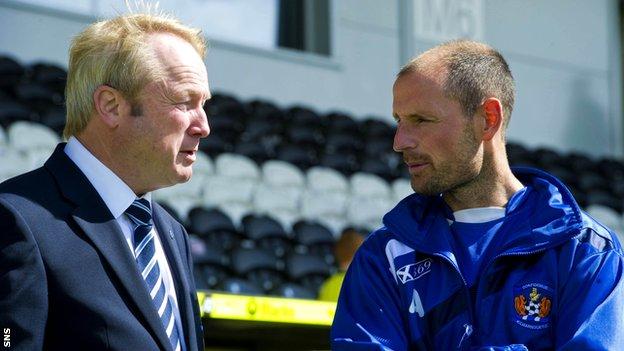 Kilmarnock chairman Michael Johnston says league rules prevent him from offering home supporters the same cut-price deal presented to visiting fans for Saturday's meeting with Celtic.
On Tuesday, opposition season ticket holders had the chance to take advantage of a one-day only discount.
That allowed some Celtic fans to pay £6 less for the all-ticket match.
The Rugby Park club has responded to criticism of the policy by announcing new incentives for home supporters.
Celtic fans who purchased tickets in advance of the offer are paying £26, the same price as the Kilmarnock crowd.
With followers of both teams complaining of being short-changed, Killie are offering non-season ticket holders free entry to the home game with Ross County on 19 October.
And season ticket holders are being asked to bring a friend in return for a gift voucher.
Prior to the incentives being revealed, I contacted Johnston on the topic via text messages and here is the conversation in full.
JB. Why did you offer Celtic season ticket holders reduction and not offer the same to Killie supporters? Are you aware of the fury among supporters?
MJ. Our season ticket holders aren't effected (sic) by this offer. SPFL rules prevent us reducing prices for East and West Stands having sold Chadwick at £26 for adults. This one day special offer applies to Moffat Stand only and is to encourage more children to attend.
JB. I'm not meaning Killie season ticket holders. I'm talking the ordinary Killie fan who turns up and pays per match. Have you not already sold Moffat stand tickets at a more expensive price than £20?
MJ. No, we haven't. The Moffat Stand is for away support only for this match. The Chadwick has almost sold out at £26/adult. We're trying to encourage more family groups/children to the Moffat Stand. We can't offer the equivalent in the East or West for home support.
JB. Why offer opposition fans better rates than your own supporters?
MJ. See previous answers. SPFL rule prevents same offer for East or West Stands.
JB. You can't blame rules for charging opposition fans less than your own supporters?
MJ. I'm not blaming anyone, merely pointing out the facts.