Livewire Luis Suarez takes centre stage at Old Trafford
By Alistair Magowan
BBC Sport at Old Trafford
Last updated on .From the section Liverpool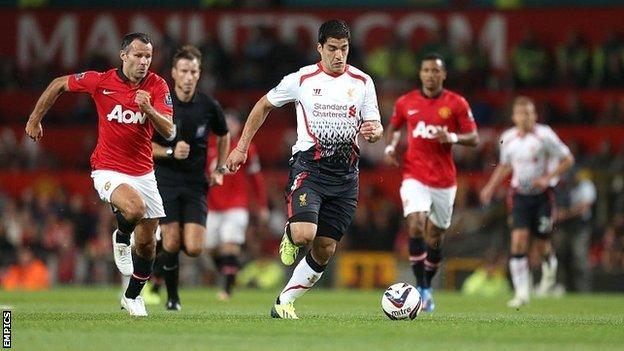 Liverpool boss Brendan Rodgers may not have realised the irony when he said Luis Suarez was "champing at the bit" to return from a 10-match ban for biting, but there is no doubting he received a full-blooded performance from the controversial Uruguayan.
The striker made his comeback against Manchester United after being suspended since April for biting Chelsea's Branislav Ivanovic and, although he could not prevent a 1-0 defeat by their arch rivals in the Capital One Cup third round, he gave Liverpool a taste of what they had been missing.
The Reds, who had a promising start to the season without Suarez, have now failed to win in their last three games.
In Rodgers' view, the South American provided the perfect response at Old Trafford to Reds supporters, following a summer in which he agitated for a move away from Anfield.
Despite some understandable rustiness, the 26-year-old also provided evidence that he and Daniel Sturridge can continue to form a quicksilver partnership at the point of Liverpool's attack.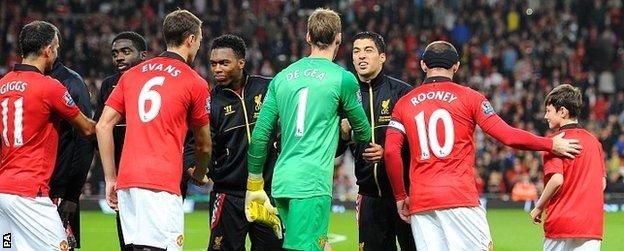 More than 7,000 Liverpool fans packed the East Stand of United's home after a short journey down the East Lancashire Road and they were quick to back Suarez when his name was read out for a first Liverpool start in five months. The Liverpool striker applauded back before a Uruguayan flag emerged high up in the towering second tier.
But Old Trafford is a hostile place for Liverpool players - none more so than Suarez, who received an eight-match ban and a £40,000 fine for racially abusing United defender Patrice Evra in October 2011 - and visiting cheers were drowned out by jeers from the United fans.
Following that earlier suspension, Suarez had compounded matters by refusing to shake Evra's hand before a Premier League match between the two sides - but all seemed cordial before kick-off here, and Evra was absent in any case.
Once the game got under way, Suarez was muscled off the ball by United defender Chris Smalling and failed to combine with his skipper Steven Gerrard early on. In fact, he did not get his first touch until eight minutes had passed.
But two minutes later he showed signs of his potency when he drew wide to collect the ball and, after playing a neat one-two with Sturridge, almost got in on goal.

That movement was to become a feature of the game as Liverpool pulled the Manchester United midfield and defence out of shape thanks to a 3-5-2 formation that saw Suarez and Sturridge supported by Victor Moses.
Suarez also linked well with Sturridge on the counter-attack, and midway through the first period, it was indicative of the way things were going that Liverpool fans were loudly singing his name.
The former Ajax player, who scored 30 goals in 44 appearances last season, has become accustomed to making defenders look foolish with a trademark move where he fakes to cross and then cuts inside.
He tried that manoeuvre in the 23rd minute, but was betrayed by his lack of sharpness and United left-back Alexander Buttner was able to recover.
A poor touch also let him down from a Jose Enrique cross but his commitment was clear to see as he dived in for a 50-50 challenge with United keeper David De Gea, the Spanish keeper smothering the ball after the Uruguayan narrowly beat him to the touch.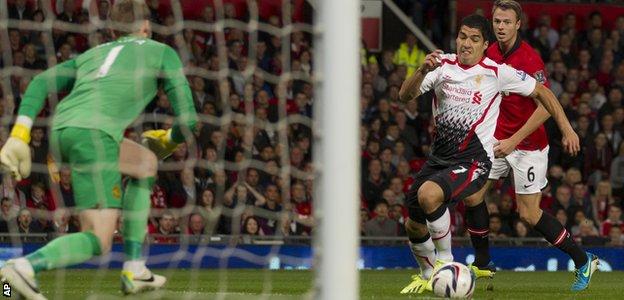 With the coaching staff of both sides yet to return to their seats after the interval, Javier Hernandez's unmarked volley provided what was to prove the decisive moment of the game.
Yet Suarez's determination to help engineer an equaliser never wavered, despite the abuse he received from United fans when he went to take his first corner after 55 minutes.
Indeed, he several times came close to writing the morning headlines, either as goal scorer or architect.
After helping set-up Jordan Henderson for a chance the former Sunderland man should have at least got on target, he fired into the side-netting following a corner, before a Moses diving header drew a superb save from De Gea.
With 72 minutes gone, Phil Jones, who struggled to track Suarez at various points in the game, brought his opponent down just outside the penalty area and was booked for the foul.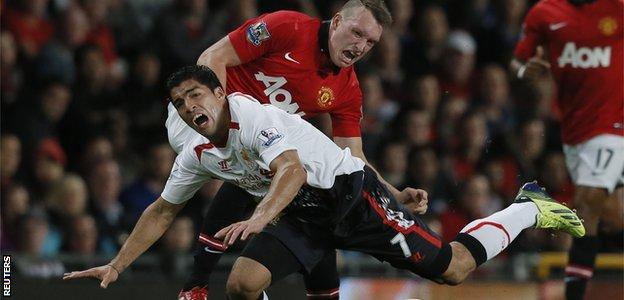 More than 25 yards out, the stage was set.
One look up at De Gea's positioning, and Suarez took two steps and whipped the ball over the wall - via the slightest of deflections - beating the United goalkeeper but not the frame of the goal as it flicked off the crossbar.
Thereafter Suarez understandably tired, but following a week in which Rodgers claimed his star forward was worth £50m-£60m, he certainly underlined his value to Liverpool as they chase a Champions League place.
They know of course that if they fail to break into that elite company, Suarez's future could, before long, be uncertain once again.