Luis Suarez: Liverpool striker to 'try best' after return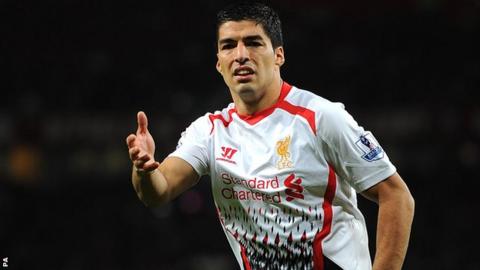 Liverpool striker Luis Suarez says he is committed to the Reds' cause following his first match back after seeking a summer transfer.
Suarez, 26, returned from a 10-match ban for biting Chelsea's Branislav Ivanovic in Wednesday's 1-0 defeat at rivals Manchester United.
The Uruguayan wanted to leave Anfield but Liverpool refused to sell.
"All the time I try my best on the pitch. I'm here to help the team and help Liverpool," he said.
Suarez was named in the Reds' starting line-up for their League Cup third-round visit to Old Trafford - the first time in five months that he had been available for selection.
The ex-Ajax striker had not played for Brendan Rodgers's side since he clashed with Blues defender Ivanovic in a 2-2 draw at Anfield on 22 April.
He was suspended immediately by the Football Association and missed the opening six matches of the current campaign as he completed his ban.
But he played the whole 90 minutes against United and came close to scoring an equaliser when his second-half free-kick hit the crossbar.
"The result is not good because we lost but the feeling is good because we played very well, we created chances and we missed," Suarez told Liverpool's official website.
"I know it was a difficult moment but for myself and for the team it's very important I'm back because I can help the team and off the pitch I can't.
"We'll keep going for the week and for the next game."
Liverpool boss Rodgers praised the impact of the returning forward and hailed his performance as "excellent".
"You could tell he'd been out for a long time as he tired at the end," said the Northern Irishman. "But he's obviously a threat.
"I think adrenaline gets you over the line in the first game. But he's a fighter. He's so determined and will get ready for the weekend."
Suarez could make his Premier League return when the Reds travel to managerless Sunderland on Sunday.