Laudrup rues missed Swansea chances in Birmingham defeat
Last updated on .From the section Football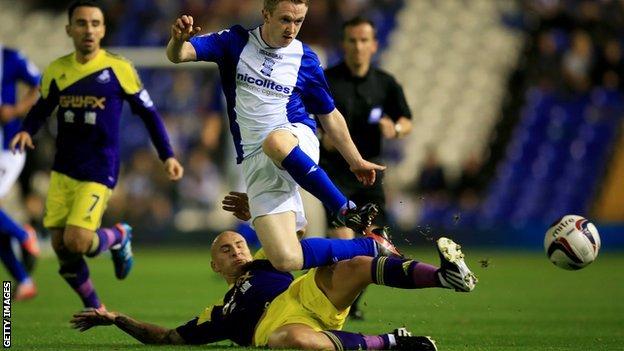 Manager Michael Laudrup rued Swansea's missed chances and says they created enough to beat Birmingham City in their Capital One Cup tie.
Strikers Wilfried Bony and Alejandro Pozuelo, and midfielder Roland Lamah all missed chances for Swansea.
"We should have won this game after the first half," said Laudrup.
Bony and Pozuelo both hit the woodwork in a first half dominated by the Swans in the West Midlands.
But second-half goals for Birmingham by defender Dan Burn, striker Matt Green and midfielder Tom Adeyemi knocked Swansea out of the competition at the first attempt of the defence of their title.
Laudrup denied he was angry or upset at the manner of the second-half performance but was adamant Swansea did enough to be in the fourth round of the competition.
"Upset is the wrong word," said Laudrup.
"We could and should have done better. We should have won this game after the first half. It should have been finished there.
"Then we could have moved the ball around for the second half but instead we were 1-0 down and we had to fight to get back into the game.
"In the end we lost it, so I don't know what word to use but we can be a little sad about that.
"We won this (Capital One Cup) last year and when you are champions you want to go a little bit further than this. It's the first game and we are out in a game we could and should have won."
Laudrup, who made 10 changes to his side for the cup tie, claimed Birmingham's first goal at the start of the second half changed the game.
"We were comfortable dominating but you are never comfortable if you don't score and the score was 0-0," said Laudrup.
"If we start with the positive things, we created a lot of chances, like we did against Crystal Palace, West Brom and Valencia, but the difference was that we scored one or two goals in those games.
"Even against West Brom our second goal was very late and I have said to the players, even when you are dominating, or 1-0 up, you are one mistake, a corner, a free-kick away from letting the other team back in the game.
"We could have been three or even four up at half-time, but we weren't and I said one day we will pay the price - I didn't know it would be today.
"They score the first time they have a chance and they are 1-0 up and then we have to score an equaliser and going forward like that saw us make mistakes and have misunderstandings at the back.
"The second and third goals were the result of our misunderstandings."
Swansea beat Bradford City 5-0 to win the Capital One Cup in February to lift their first major trophy in the club's 101 year history, clinching a place in this season's Europa League.