Patrick Vieira says coaching is the problem for England youngsters
Last updated on .From the section Football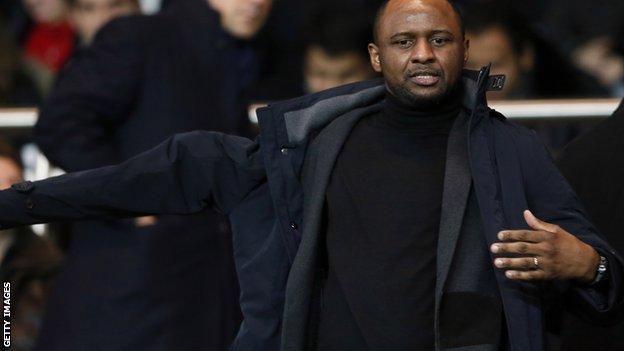 Patrick Vieira says England's failures at major tournaments are down to coaching standards rather than foreign talent playing in the Premier League.
But former France midfielder Vieira said: "The problem is deeper than just saying there are too many foreigners.
"The methods in England haven't changed as much as the game has changed."
Vieira, now Manchester City's elite development squad coach, added: "I believe the game has changed and if the game has changed that means we need to change our methods."
England have not gone beyond a World Cup quarter-final since they reached the last four in 1990 and have only won it once, in 1966. Their best performances at the European Championship came when they reached the semi-finals in 1968 and 1996.
Their recent shortcomings - England have not been past the first knockout round of a major tournament since 2006 - have come amid a backdrop of foreign influence in the Premier League, with many believing it is having an adverse effect on the national side.
Last season, the number of English players under the age of 21 competing in the Premier League dropped to its lowest level and during the summer transfer window, there were 137 signings by top-flight clubs but only 25 (or 18.2%) of those were English.
But Vieira, who won three Premier League titles and four FA Cups with Arsenal, believes blaming England's failures on the surge of foreign players is not the way to find a solution.
"I heard some comments about there being too many foreigners in the country, that that is why there is no chance for the English players to have a chance to play in the first team," said Vieira, who took charge of City's elite development squad in the summer.
"But, for me, that is the comment everybody wants to hear. The truth is we need to ask how can we help the young players to develop."