Obinwa refuses to rule out Nigeria despite MRI scan failure
By Oluwashina Okeleji
BBC Sport, Lagos
Last updated on .From the section African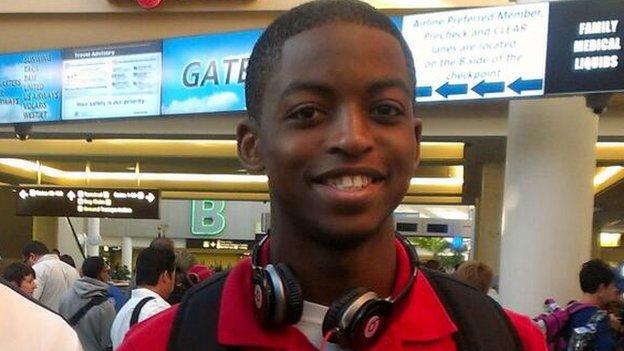 Abuchi Obinwa's father says his son is still open to the idea of playing for Nigeria in the future despite controversially failing an MRI scan that ruled him out of playing for their under-17 team.
Despite having all the relevant documentation from the USA to prove his age he failed an MRI age-test scan when he tried out with the Nigerian under-17 side in July.
Through his parents Obinwa is still eligible for the Super Eagles, having only represented the USA junior teams and not at full international level yet.
"I think he would like to stay loyal to the US as he's played in every age group for them," the defender's father Nnanna Obinwa told BBC Sport.
"The Nigerian experience is probably one of many that he will have in his chosen profession. We learn from it, remedy what we can and move on.
"Like every adult, he will have to make the decision on where to play when the time comes. I can tell you the United States Soccer Federation (USSF) has been very good for him and to him.
"But he would never close any doors and there is no decision to make yet.
"For now USSF likes him and he loves the experience here. As a young man, what else can one expect. The USSF appreciates him and we appreciate them and what they do for youth development."
Obinwa an imposing six-footer, who can play either in defence or as a holding midfielder, for Chicago Magic PSG based in Florida, has now put the MRI disappointment behind after being named in the USA's under-18 national team announced by head coach Javier Perez.
"The result of the MRI was of deep concern to us and of course, the cost incurred was substantial," Nnanna Obinwa said.
"Altogether, it was a good and different experience for Abuchi, he learnt a lot. Nigeria plays a different style of football. Coach Nduka Ugbade was phenomenal and worked well with the boys.
"The goal was to start now to embrace his heritage so when he is older, it will be easier for him to identify with and give back to his father's land.
"I would have loved a different and fuller experience but that is just my wish. We will take what he got out of it. It can only make him stronger."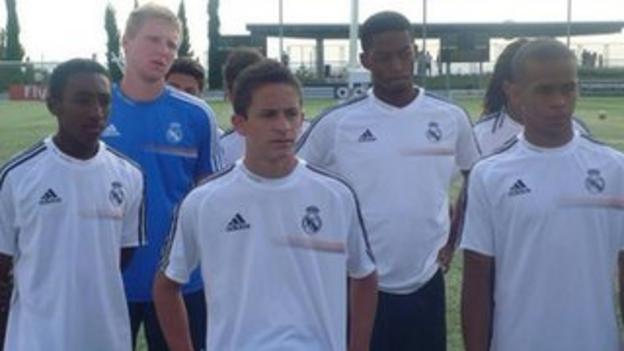 Spanish giants Real Madrid are just one of the glamorous clubs attracted by the creative defender-cum-midfielder's potential after spending a week in July at their academy in Spain.
"Coming back to the US and being selected to the US U-18 side made any hint of an unpleasant experience go away." his father explained.
"Visits to France and Spain were very inspirational. They gave him a first hand experience of professional life. He watched the senior teams train and play, played with his peers and trained under some of the best coaches in youth football.
"He was selected to start on the PSG team against the French U-17 team. It truly enhanced his resolve in his quest to become a professional footballer."
With talented older brother Nathan Obinwa forging a career in American football with Colgate University, their proud father insists the children have a right to live their dreams.
"I grew up in the era of academics first and zero emphasis on sports but I have grown to realize that we are all different beings with differing goals and aspirations," he said.
"We encourage excellence in all aspects of life, especially education, very important. So we advise them to put education first, but we support them with everything we have to pursue their life's dream.
"I have to put my own goals on hold to make sure they attain theirs. Sometimes, that is what we have to do as parents to provide the best opportunities for our children.
The Nigeria Football Federation have not ruled out Obinwa playing for the Super Eagles in the future either.
"It is important to note that the MRI scan is not foolproof," NFF board member Chris Green told BBC Sport.
"We can only wish the young man all the best in his career and who knows he could end up representing Nigeria in the future."