Crawley Town boss Richie Barker aims to bridge play-off gap
Last updated on .From the section Football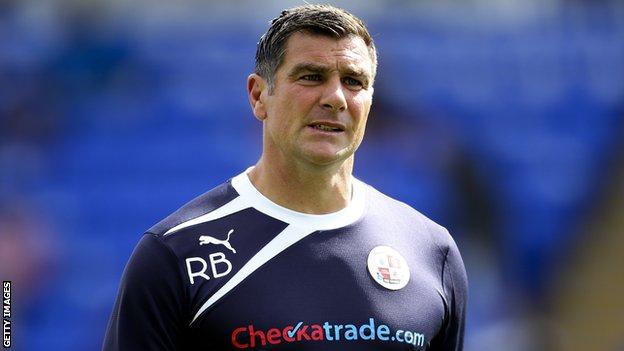 Crawley Town boss Richie Barker hopes his team can bridge the gap to the League One play-off places this season.
The Reds missed out on sixth place by six points last season.
He told BBC Sussex: "Myself and the rest of the staff sat down at the end of last season to work out where we were going to get six extra points.
"Over 46 games it is tough. You are looking at real fine margins. We have a belief as we work incredibly hard to make the players the best we can."
The West Sussex club have started the season strongly and sit ninth in the table, with just two defeats from their opening eight league games.
However, Barker still thinks they are overachieving, given the size of other clubs in the third tier.
"We think we have made some adaptations, in terms of the way we run the place, to hopefully progress and push on," the 38-year-old said.
"To be where we are now, bearing in mind we were under a transfer embargo for most of the summer, only have 18 senior players and one or two on loan, is amazing.
"I think we have got the the smallest squad in this division, or even in the Football League.
"We forget about where we should be. There are teams far bigger than us that haven't won a game.
"Having said that, we don't want to be resting on our laurels, saying we are doing really well to be ninth. It is not what we get up for every morning."
Barker says the club's policy of buying young, hungry players has helped the club to move forward.
"The majority of players we bring in here we have brought from a reserve team," he said,
"People like Connor Essam, Mike Jones, Joe Walsh, Jamie Proctor, Emile Sinclair and James Hurst.
"They have all come from teams when they are not playing because we have not got the resources to go out and bring someone from someone else's first team.
"Predominantly we get people with a point to prove."