Sports Minister Caral Ni Chuilin 'committed' to Windsor upgrade
Last updated on .From the section Football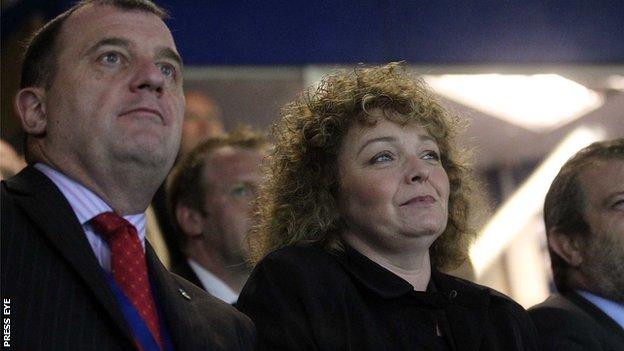 Sports Minister Caral Ni Chuilin has said that she remains "committed" to making sure that the redevelopment of Windsor Park goes ahead as scheduled.
These centred on David Martin's return to the role of IFA deputy president.
However, the minister said on Thursday that she was "confident" the governance issues would be resolved.
Doubts over the project emerged following the appointment of Amateur League official David Martin as deputy president of the Irish Football Association.
Members of the IFA's council unanimously backed Martin for the position - even though he had been forced to resign from the same post three years ago and had subsequently failed a suitability test for senior office.
Martin's 2010 resignation was a result of his role in the unfair dismissal of Howard Wells as IFA chief executive, something which cost the association £500,000. The then president Raymond Kennedy also had to stand down.
The IFA scrapped the requirement for suitability assessments for senior officials earlier this year.
Responding to those developments, Miss Ni Chuilin told the assembly on 10 September that she needed "to be assured that appropriate governance and accountability structures have been maintained".
"Until that happens, I can't sign off on any agreement," the minister had added.
However, the minister's tone was noticeably more conciliatory on Thursday.
"I'm confident we will achieve a resolution," the minister told an open session of the Department of Culture, Arts & Leisure's committee at Stormont.
"I have had representations from the some of the fans as well.
"What I don't want is for anybody to think that the deadlines won't be met because we've encountered a problem."
Asked whether the scheduled completion date for the Windsor Park project of June 2015 would be met, the minister replied:""Am I still committed to making sure Windsor Park happens?
"Absolutely. I am as committed to it as Ravenhill and Casement Park.
"Are there problems? Yes but I have taken a 'can do' approach. I will not get involved in (the IFA's) democratic process.
"My intention is to move on and move forward and I am confident we can get these issues with IFA dealt with and move on to deliver a facility that will be world-class."
The stadium redevelopment work will see two new stands at Windsor Park, plus the refurbishment of two others increasing the capacity from 12,000 to 18,000.