Martin Allen: Gillingham boss asks for players' thoughts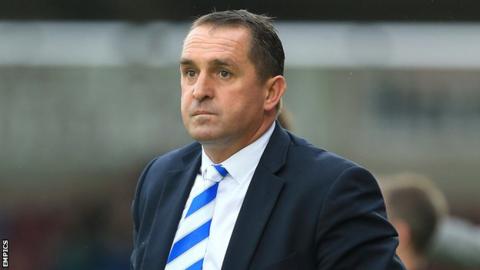 Gillingham manager Martin Allen has asked senior players for their views on how the team can improve.
The Gills are bottom of League One and yet to win this season.
"The senior players have chipped in and wrote down what they thought we all needed to do. I was impressed with what they wrote," he told BBC Radio Kent.
"It was my decision. I had a go at all the players last week. It was their chance to sit down and say what we need to do better."
Gillingham won the League Two title last season but of their eight matches in the third tier this season they have drawn three and lost five.
"None of us, especially myself, are above any of the blame here," he said. "The bottom line is, it is my responsibility - my squad and my team.
"I am here to do a job to prepare them and get them sorted. I can take it on my chin okay."
Having previously been involved in relegation battles with Barnet, Brentford, Cheltenham and Notts County, Allen says he is comfortable with the task in hand at the Priestfield Stadium.
"I had to put a lot of things in place when I first started," he said. "I get employed by football clubs to get them out of relegation. This is what I do. This is my job.
"I can't just sit back, can I? We need to do better.
"We need to practice, train more and do more work. We need to work out how we are going to help individuals and work better as a team."
Allen says the Gills have trained every day this week as they look to record their first win of the season at Crewe on Saturday.
"We have been very bright," he said. "You could call it 'back to basics'. The players have been excellent and very receptive.
"There have been lots of good performances. It is not as though we have been playing rubbish.
"We have got to defend set-plays better. When you lose, self-belief and confidence takes a dip.
"We have tried to get rid of all the negativity through the week, focus on what we do well and improve what we do well.
"We are not making the players run up and down hills and we are not beasting them into the ground. They need help, support and clear guidance about what we need to do."