Ajax games crucial to Celtic's last 16 hopes, says Kenny Dalglish
Last updated on .From the section Football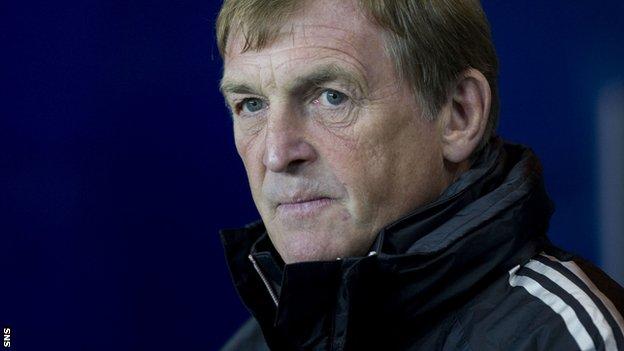 Celtic's double header against Ajax could prove crucial to their hopes of Champions League progression, according to Kenny Dalglish.
"The San Siro was a disappointing result but the performance was more than acceptable," said former Celtic player Dalglish.
"Back to back with Ajax could determine what happens."
Dalglish, who starred for Celtic as a player from 1969-77 and managed the club in 2000, said Celtic did not enjoy a rub of the green in Milan.
"They then step out of that game into a much easier game against Barcelona," he told BBC Scotland's Sportsound.
"It was a fantastic occasion last year when they beat them and they were close to getting something off them in the Nou Camp.
"The only problem is that Messi was so complimentary about the Celtic fans and desperate to get back to play there. And then they pulled the game out the hat; I don't think that's a good thing, if he's really up for it.
"The big one will be when Celtic play AC Milan at home. Back to back with Ajax could determine what happens. If they beat them twice then they've got six points and if they beat Milan at home then it's nine.
"So, that'd be a good haul but you'd think Barca are going to take maximum points and the other teams are fighting for (second) spot.
"It's like a three-team league because you'd expect Barcelona to win it easily."
He also expressed his support for Gordon Strachan's start to his tenure as Scotland manager. Dalglish, who holds the record for the most international appearances for Scotland, said the signs that the national side were on the road to recovery were encouraging.
"I think the last four games have been really encouraging and a victory in Croatia. They came back and put in a really good performance against England at Wembley," said Dalglish.
"They lost to a very impressive Belgium side at Hampden, who could have a really decent run in the World Cup. And, on the back of that, they won in Macedonia. As footballers they gave everything.
"There's no problem with the commitment of the Scotland players and they're definitely moving forward. If people are patient, thoughtful and constructive then that will help rather than slagging everybody off.
"At the end of the day, if you're encouraged to do something and you want to do it then you've got a chance of responding to it."