Gordon Taylor: PFA chief asks Fifa to improve safety of boots
Last updated on .From the section Football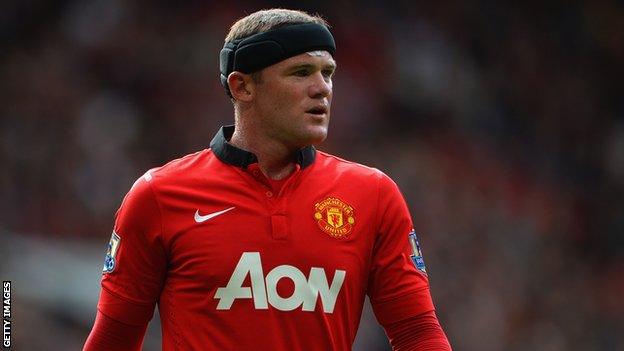 Fifa need to do more to check the safety of football boots following a number of serious injuries, says Professional Footballers' Association chief executive Gordon Taylor.
"Hybrid" boots combine metal studs and plastic blades, which can become sharp.
Last month Wayne Rooney missed two England matches with a gashed head.
"We live in a very litigious world," said Taylor. "If a player had a bad injury that left him disabled then there could be [legal] consequences."
Manchester United striker Rooney suffered the severe cut via the boot of Manchester United team-mate Phil Jones, forcing him out of England's World Cup qualifiers against Moldova and Ukraine.
It was the second time Rooney had been injured in such fashion after he suffered a leg injury last year which Taylor says was "very near to a main artery".
Taylor now wants the sport's world governing body Fifa to introduce a proper testing method for the boots' safety.
"The issue [with the boots] was highlighted when you saw the extent of the damage to his [Rooney's] head, near his eye," Taylor said. "But this is also something that affects youngsters playing in parks.
"Five per cent of all injuries are down to cuts attached to boots. It's not a high number but they can be very serious. So we need to do something about it.
"It's really incumbent on us and the boot manufacturers to do all we can to make sure they're as safe as possible, bearing in mind it's a physical contact game."
The first boots with bladed studs were released in 1996. Since then so-called "hybrid" boots have been developed, which have both metal studs and plastic blades.
"We've spoken to the boot manufacturers," Taylor added. "They've said they can't re-create the accidents as you would with a car crash but they do check wear and tear.
"At the moment the regulations with regards to boots are for referees to check the safety. We think it's time there was a Kitemark - a proper testing method."
It would mean football following the example of rugby union. In August 2012, the International Rugby Board introduced new legislation regarding playing clothing, including studs.
Law 4.3 states: "Studs/cleats of player's boots must not be longer than 21 mm, and must not have any burring or sharp edges."
Taylor will now take the issue to the international players' union, FifPro, and wants Fifa to establish new health and safety measures.
A Fifa spokesperson told the BBC: "If FIFPro raises this issue, we will look into it."