Gibraltar awarded Champions League qualifying spot
Last updated on .From the section European Football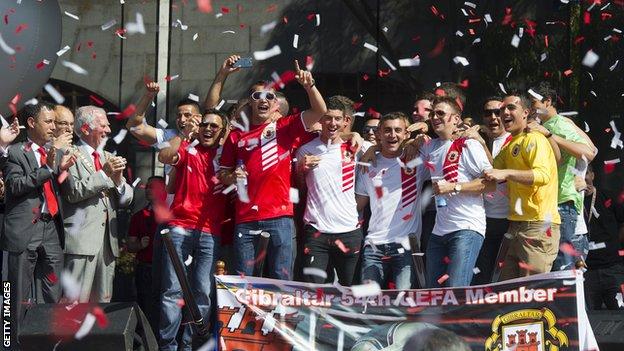 There may be two Manchester Uniteds in the Champions League next season after the latest boost for football in Gibraltar.
The British Overseas Territory, with a population of under 30,000 off the south coast of Spain, has been told it will have a team in each of the Champions League and Europa League qualifying next season.
and the national team will be eligible for Euro 2016 qualifying.
The Gibraltar Premier Division has only eight teams - Lincoln, who have won 11 titles in a row, St Joseph's, Lynx, Lions Gibraltar, Glacis, College Cosmo, Gibraltar Phoenix and Manchester United, and the 2013-14 season has not kicked off yet.
On the prospect of the two namesakes meeting, Manchester United captain Matthew Reoch told the BBC's World Football Show: "It would be ambitious of me to say we can get that far but the sky's the limit.
"If it's not in the next five years, it might be in 40."
Unsurprisingly, the two club's names are linked.
"It all originates in 1962," Reoch explained. "It was a band of supporters who followed our namesakes in England and they wished to establish a team in the league through their supporters club."
Reoch could be lining up with a former player of the English Manchester United soon, after 34-year-old Chester defender Danny Higginbotham made himself available to play international football for Gibraltar.
National team captain Roy Chipolina, who also skippers perennial champions Lincoln, thinks the standard of the league has improved tremendously following the news they can qualify for Europe.
"It's changed the way people and players in Gibraltar look at football here," he said. "It's creating exciting opportunities for both clubs and players and you can see it in pre-season. They're more willing to work as they've got a great goal ahead.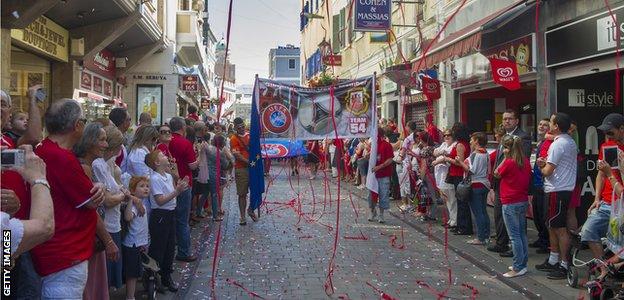 "You have foreign players coming to play in Gibraltar. The competition's going to be a lot harder this year. Some youth players who have played in Spain have come back to Gibraltar in the hope of playing in the Champions League."
United captain Reoch thinks they can end Lincoln's control over domestic football: "If you'd asked me last year, form has it that Lincoln would be dominating. But since we got into Uefa, the league has been turned on its head.
"There's been interest from players abroad to come to sign. The enthusiasm has increased 10-fold."
While he does not expect a club to have a good run in either tournament next summer, Chipolina is confident of their long-term progress.
"In the first round of the preliminaries, I think we'd be competitive," he said. "After that the standard increases dramatically and it might be a bit high for us at the moment. But this is long-term. Hopefully in five, 10 or 15 years Gibraltar football will have grown to compete at that level."