Kilmarnock chairman Michael Johnston defiant on ticket deal
Last updated on .From the section Kilmarnock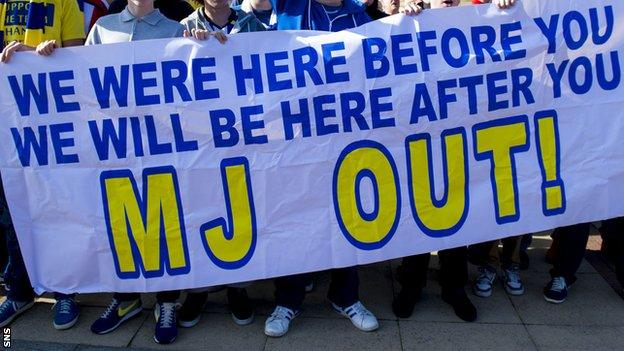 Kilmarnock chairman Michael Johnston has accused fans of attempting to force the club into administration by withholding revenue from ticket sales.
Earlier this week for Saturday's meeting at Rugby Park.
Killie fans staged a protest ahead of the match over the discount offer.
"Their leaders advocate withholding revenue from the club, forcing an insolvency event to try and achieve their objective," said Johnston.
On Tuesday, Johnston announced a deal which would allow Celtic season ticket holders a one-day only discount for Saturday's home match at Rugby Park.
Scottish Professional Football League rules prevent clubs from offering home supporters tickets for matches that are cheaper than those offered to visiting fans.
The deal allowed some Celtic fans a discount of £6 for the all-ticket match, but this prompted an angry reaction from the Aryshire club's fans and Johnston responded to criticism by announcing new incentives for home supporters.
These included offering non-season ticket holders free entry to the home game against Ross County on 19 October.
Johnston admitted the timing of his announcement could have been better, but denied he had made a mistake with the offer to Celtic fans.
"The main lesson is to get your offer out to the home supporters before the away supporters - but we had a very small window of opportunity to catch the Celtic support at their League Cup tie, which is why we've made a special offer to them," said Johnston.
"We were always planning to offer incentives to our own supporters and it was an unfortunate accident of timing that the offer to the Celtic supporters, which we had to do on Tuesday to catch that match on Tuesday, went out before we had announced [the incentives to Kilmarnock fans] the following morning."
Kilmarnock fans gathered outside Rugby Park ahead of Saturday's match, protesting at Johnston's ticket initiative, but the chairman insisted his first consideration was to the club's financial well-being and suggested that supporters were being guided by a small number of "ringleaders".
"Of course, there are people who have their own agendas who wait in the wings and jump on any perceived error and then create as much hysteria as possible," said Johnston.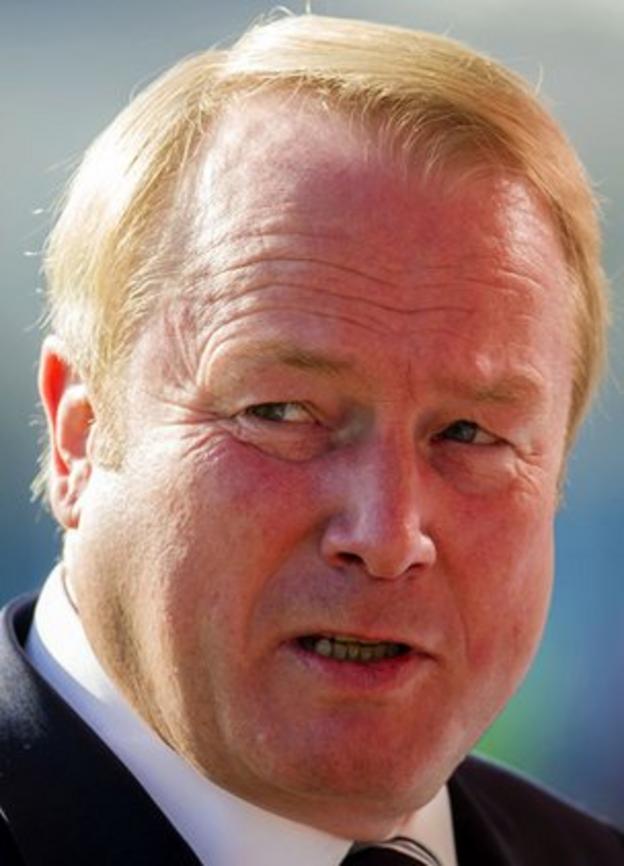 "You hope that people will realise that there's a football match on, with an 18,000-capacity stadium with more than 10,000 empty seats and we're trying to sell tickets for a football match to protect 200 employees at Rugby Park.
"My first obligation is towards the employees, which includes 42 professional footballers.
"The ringleaders of the angry fans have their own agenda and they are trying to force change with an objective of community ownership of the club.
"They don't care about the 200 employees we have here - I do - I'm trying to generate revenue, pay wages and keep people in employment in one of Scotland's biggest unemployment black spots.
"I apologise for the timing of the announcements, because clearly that was a mistake, and that's highly regrettable, but the bottom line is that nobody was prejudiced by the offer made to Celtic supporters."
Sandy Armour, chairman of a Kilmarnock supporters group, described the episode as "a shambles".
"The chairman should be looking after his own fans," said Armour. "This is the latest in a long line of catastrophic decisions by Michael Johnston which just alienates his own fans.
"The Kilmarnock fans are fed up because away fans can get tickets cheaper and Celtic fans who had already bought tickets are upset because they paid £26 and could have someone sitting next to them who paid £20.
"It typifies Michael Johnston's time in charge of Kilmarnock. All he is doing is damaging the club by making mad decisions like the one this week.
"It's a shambolic afterthought. He made the decision with no consideration for Kilmarnock fans. Then there was a big outcry and he went scrambling to do a bit of repair work. Fans can see through exactly what he did.
"Any small amount of income he gains from it will be lost 10 times over by the amount he's going to lose in the longer-term because Kilmarnock fans have had enough of him. They're arranging boycotts and protests."