Lack of composure cost Swansea in Arsenal defeat - Laudrup
Last updated on .From the section Football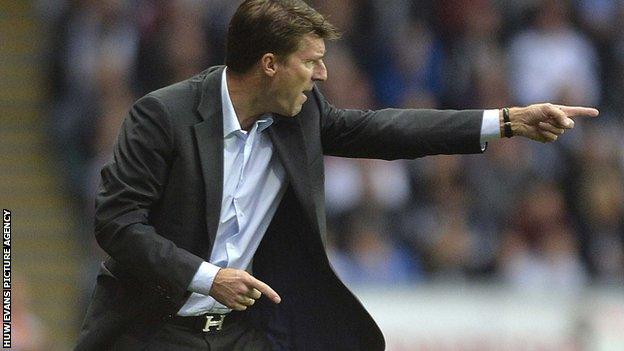 Manager Michael Laudrup says Swansea's lack of composure cost them against Arsenal.
Laudrup claimed a four-minute spell when Serge Gnabry and Aaron Ramsey both scored proved costly in the second half.
"It's a pity but that is what happens when you play the big boys," said Laudrup.
Wales full-back Ben Davies replied with a Swansea goal in the 81st minute, but the home side failed to find the equaliser in the dying moments.
The Swans boss was satisfied with his side's performance in a pulsating Premier League clash but pinpointed teenager Gnabry's goal as the turning point.
Laudrup says his side lost their composure and shape after Arsenal's first goal and that resulted in the home side conceding a second goal minutes later.
"You cannot give them anything," said Laudrup.
"We had those 15 minutes in the second half where they scored two goals and a team like Arsenal will beat you when you are 2-0 down.
"But we came back into the game and scored one goal - it showed we could recover.
"We had a lot of time to get the equaliser and we don't need to score two minutes after they score. We must learn from this."
This was Swansea's second defeat in a row after the exit from the Capital One Cup, having been beaten 3-1 by Birmingham City in midweek.
Laudrup believes the Swans must show more composure when they go a goal behind and not go chasing the game.
"We gave them 15 minutes of the 90 but that was enough for Arsenal and the first goal we defended very deep and still they went through our defence," said Laudrup.
"It was good play and a good goal.
"Then we lost our position on the pitch for the next five to 10 minutes.
"We went forward with too many players and we gave them the opportunity to have some very dangerous counter-attacks, and from one of them they scored.
"Then we came back into the game, dominated the rest and got the 2-1 and we still had 10 minutes left but it was too late and not enough.
"It was a tight game and you know that will be the case when you play a team top of the table.
"You cannot expect to create eight or nine chances, but we lost because of this 15 minutes at the start of the second half."