Arsenal's Aaron Ramsey relishes victory against Swansea
Last updated on .From the section Wales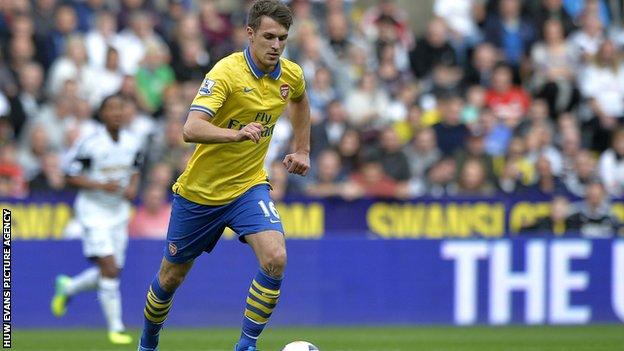 Wales midfielder Aaron Ramsey says he relished scoring for Arsenal in the 2-1 win over Swansea at the Liberty Stadium.
The former Cardiff City player was booed throughout the game by the Swansea supporters.
Ramsey struck with a cool finish in the 62nd minute to give his side a 2-0 lead they would not lose
"They (the Swansea fans) gave me a lot of stick throughout the game," said Ramsey.
"It was nice to get on the score sheet and give some banter back to them because being an ex-Cardiff player, it means a bit more to me."
Arsenal's win extended the club record of consecutive away wins in all competitions to 12 and equals their record of eight in the Premier League, which was set in the 2001-02 title-winning campaign.
Ramsey, who joined them as a 17-year-old in 2008 and suffered from injury and inconsistency until this season, was the driving force for his side's win at the Liberty Stadium.
The former Cardiff City played a role in both of Arsenal's goals and scored his eighth in 10 games this season, including two appearances for Wales.
The former Wales captain saw his club go top of the Premier League with the win in south Wales.
Ramsey, 22, admitted he was enjoying his football and credited a new-found maturity for the reason behind his impressive start the new season.
"I'm enjoying myself at the moment," said Ramsey.
"I'm getting myself into good positions and putting them away at the moment.
"I have always believed in my quality and I have always been in these positions in my career but I have been a bit rash in the past.
"I have become a lot more composed in front of goal and things are going in for me.
"Things are now going through me through the middle and I feel really confident out there.
"Things are happening and I feel more mature as a player."