Man Utd boss David Moyes has Champions League doubts
Last updated on .From the section Football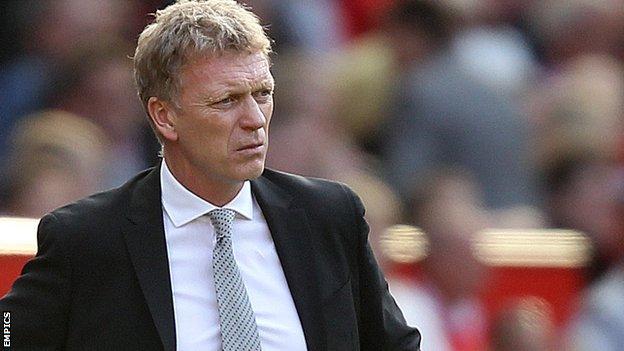 Manchester United boss David Moyes has questioned whether his side have the quality to win the Champions League.
"To win the Champions League, you need five or six world-class players," said Moyes, who took over the club in July.
"That's the level you have to be at to win it. We've not got that yet but what we have got is experience."
Moyes replaced Sir Alex Ferguson, who retired at the end of last season following 26 years in charge at Old Trafford.
Ferguson won 13 league titles, two Champions League crowns, five FA Cups and four League Cups during his tenure.
He recommended fellow Scottish countryman Moyes to take over from him but his successor has endured a difficult start in the role.
United were beaten 2-1 by West Brom on Saturday and have lost three of their opening six Premier League games in defence of the title they won last season.
Boos accompanied the final whistle at Old Trafford after the defeat by the Baggies and United lie 12th in the league table ahead of their match in Ukraine.
However, football legend Johan Cruyff says Moyes needs time to come to terms with being Manchester United manager.
Cruyff was part of the Dutch team famed for its fluid pass-and-move style during the 1970s and the forward played for Ajax and Barcelona before going on to manage both teams.
"If you are going to succeed somebody who was very successful it takes some time," he told BBC Radio 5 live's Sportsweek programme.
"They have got a new manager and a new chief executive so it takes some time to adjust, which is quite normal."
The 66-year-old guided Barcelona to four consecutive league titles and a European Cup during an eight-year spell in charge of the club.
He added: "It is not a question of your own way of doing things. It is a question that everybody expects you to do everything and win everything.
"They won a lot of things before and they didn't buy a lot of new players, which is an area where they could have done better.
"People always like to win and fans are the same everywhere so it's quite normal that they are like that."