Swansea City must cope without Ashley Williams - Michel Vorm
Last updated on .From the section Swansea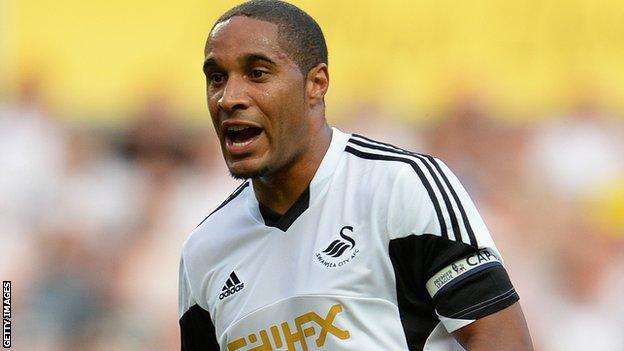 Swansea City goalkeeper Michel Vorm says the team have to learn to cope better without injured captain and defender Ashley Williams.
Williams is also a doubt for Thursday's home Europa Cup game against St Gallen.
"Ash is very important to us. For me he is one of the best [players] in the Prem [Premier League]," said Vorm.
"Ash is a leader. Leader of a team... on the pitch and off the pitch.
"He is someone it's hard to miss."
As well as Williams the Swans were without Angel Rangel (ankle injury) against an Arsenal side which scored twice in four minutes from Serge Gnabry and Wales international Aaron Ramsey.
"Angel is also a player with a lot of experience. They [Rangel and Williams] play big games like this [against Arsenal] before," added the Dutch goalkeeper.
"He [Williams] is injured and we have to cope with it."
On Saturday Williams and Rangel were replaced by the less experienced Jordi Amat and Dwight Tiendelli.
Williams' fitness is a concern for manager Michael Laudrup, especially with Wales duties on the horizon.
He is uncertain about playing Williams and Rangel against St Gallen and Southampton on Sunday.
"They [Williams and Rangel] could both be back. Angel could be back for one game and we hope so and then he can recover in the international break.
"I'm a little more concerned about Ashley because he doesn't have that possibility because he is going with the international team.
"He needs to recover. Let's see when he can come back [whether] this week or he will he need a little more rest."
That comes on top of comments Laudrup made last week about club v country issues.
"I'm a little worried, but the problem with Ashley is he's an international," Laudrup said.
"We have to be careful, but I mean the national team as well."
"They [Wales] have to go and play two games [in a short space of time]. If he doesn't get that recovery he could bring this injury for a month," Laudrup added.