Bristol Rovers: John Ward issues John-Joe O'Toole warning
Last updated on .From the section Bristol Rovers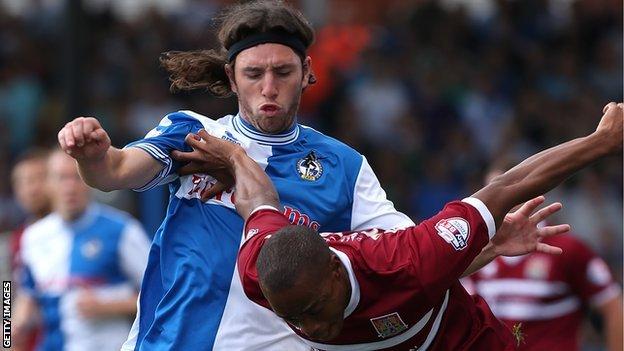 Bristol Rovers manager John Ward has warned midfielder John-Joe O'Toole that his lack of discipline could cost him a place in the team.
He has been ever-present this season but has picked up four yellow cards, leaving him one away from suspension.
"He puts his own game on a knife edge and he's aware I'm not a fan of that," Ward told BBC Radio Bristol.
"He'll end up coming out of the team and someone like Seanan Clucas will come in and he may not get back in.
"But I told him that three weeks ago. That's the risk he's running."
Rovers fought off competition to clinch a deal for O'Toole in July and paid an undisclosed fee for the former Republic of Ireland Under-21 international.
He has scored two goals this season - the winner against York and an equaliser against Hartlepool.
But after picking up his fourth booking in Friday's draw with Southend, Ward said the midfielder was causing himself problems.
"He gets involved in unnecessary things," said the Rovers boss. "He kept his head and scored the equaliser last week and this week he's lost his head a little bit.
"He's a valuable player for us, but he's no value to us when he's not in the team. If someone takes the opportunity when he's not there, then that's not my fault.
"I don't make decisions on what people have done in the past, it's what they are doing at the moment.
"Tom Lockyer [defender-turned-midfielder] has established himself in there and shifted people out, so I'm sure Clucas can do it. John-Joe better beware."
Meanwhile, Ward has confirmed that Matt Gill is unlikely to feature in his plans this season, and the 33-year-old midfielder is considering his future at the club.
Gill has played only nine minutes for Rovers this season, coming on as a substitute against York.