Doncaster Rover Belles: manager John Buckley departs
Last updated on .From the section Football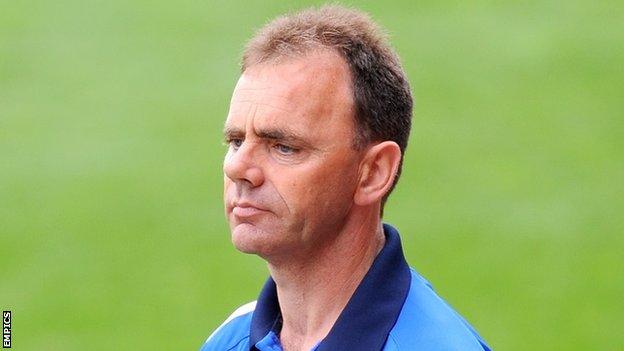 Manager John Buckley has left Doncaster Rovers Belles by mutual consent, the demoted club has confirmed.
Buckley, who had managed the Belles for 10 years, has departed following the club's final game in the top division of women's football.
The Belles have appointed former manager Julie Chipchase as director of football and will search for a new first-team coach.
The club said it intended to establish a new pyramid coaching structure.
It has been a difficult season for the Belles after the FA confirmed it would not be one of the teams taking part in the top division of the new Women's Super League.
Splitting the league in two, with relegation and promotion between the divisions, is part of the FA's five-year plan to make women's football the second most-played sport in the country behind the men's game.
The Belles have been in the top flight for 22 years, and are one of the pioneers of the women's game, winning numerous trophies, particularly during their early years.
More recently they have been overtaken by better-funded clubs like Arsenal, Chelsea and Everton, but they have remained competitive.
However the FA decided which teams should play in each division via an independent panel that assessed clubs on financial sustainability, with factors such as management, marketing and the quality of coaching staff and facilities considered.
Doncaster were informed they would be demoted and replaced by newcomers Manchester City Ladies after just one game of this season, timing that Buckley called "incredible".