Manchester United have 'alarm bells ringing', says Alan Hansen
Last updated on .From the section Man Utd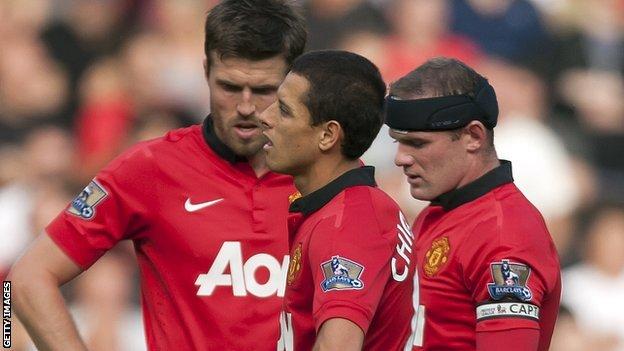 Manchester United risk repeating errors which led to Liverpool's problems in the early 1990s, says Alan Hansen.
Hansen was part of the title-winning Liverpool side of 1990, but they have failed to win the league since.
New United boss David Moyes made just one notable summer signing in Marouane Fellaini, and his side have made their worst league start for 24 years.
"Liverpool began to flounder because they failed to replace good players with better ones," said Hansen.
The former Scotland defender added: "The club has paid a heavy price in the two decades since."
United won the Premier League last season under Sir Alex Ferguson, who retired at the end of the campaign and recommended fellow Scot Moyes as his successor.
But the 50-year-old has had a tough first three months in charge at Old Trafford.
United failed in their attempts to sign Barcelona midfielder Cesc Fabregas in the summer and were also unsuccessful in moves for Everton defender Leighton Baines, Athletic Bilbao midfielder Ander Herrera and Real Madrid left-back Fabio Coentrao.
The Red Devils were also linked with Barcelona midfielder Thiago Alacantara, who chose to join Bayern Munich.
Moyes's side have lost three of their opening six league games to make their worst start to a top-flight campaign since the 1989-90 season.
"It is too early to say we are now witnessing the end of the empire at Old Trafford," said Hansen in his weekly column for the Daily Telegraph.
"But alarm bells are ringing and there are clear similarities between the United of 2013 and the last Liverpool team to win the title back in 1990.
"I played in that Liverpool team 23 years ago and it was in the bottom three of the eight title-winning sides I played in at Anfield.
"It was an ageing team, one which Kenny Dalglish was looking to break up and build again with new players. In the past the club had successfully combined winning and rebuilding, but this time was different."
The Match of the Day pundit, 58, added: "United have more depth and quality than the 1990 Liverpool side, but I would say that the two first teams are comparable in terms of the issues they faced.
"Both could be described as ageing teams that needed breaking up, but with issues over those brought in as younger replacements."
United lost 2-1 to West Brom on Saturday and face a testing trip to Shakhtar Donetsk in a Champions League group game on Wednesday.
Their start to the season is the worst by the defending champions since Blackburn Rovers in 1995, when former England striker Alan Shearer played for the Ewood Park club.
"We, too, had changed managers as Ray Harford was promoted. He, too, did not get enough new players in," said Shearer, 43.
"He wanted to give the current ones the chance to prove themselves under him. It didn't work.
"Champions still need to be tested and have their places under threat."
Shearer, also a pundit on Match of the Day, believes United are "an ordinary team" without the influence of Ferguson.
But he added: "Right now, everyone needs patience. Moyes, for me, is the right man.
"The players need to rediscover the spirit that used to drag them to victory no matter what.
"They are vulnerable at the minute and every team in the Premier League knows it. The air of invincibility has gone."