No crisis for Manchester United - but David Moyes must be decisive

By Phil McNulty
Chief football writer
Last updated on .From the section Football1707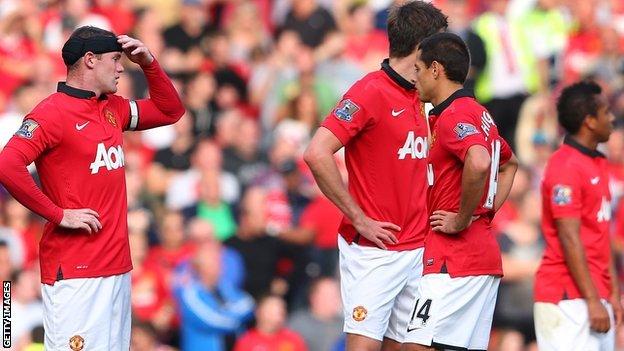 When David Moyes succeeded Sir Alex Ferguson it was widely accepted that this was a Manchester United squad in need of reconstruction, despite winning the Premier League by 11 points last season.
And anyone stepping into Ferguson's shoes after 26 years would have had serious adjustments to make, even though Moyes had 11 years' experience of his own at Everton.
No matter how confident Moyes was, he was always going to find the introductions at Old Trafford difficult as he came to terms with the giant beast that is Manchester United rather than at Everton, where his achievements - even without silverware - were lauded.
There would have been a period of adjustment for whoever had walked into the manager's office at Carrington but there is no question Moyes has found it tougher than expected.
Moyes also lost the guiding hand of chief executive David Gill following his departure. Gill would have directed Moyes towards the stepping stones at Old Trafford and provided more assurance in the transfer market than his inexperienced successor Ed Woodward.
While his complaints sounded churlish, there was no doubt Moyes was handed a tough opening sequence of fixtures with Chelsea at Old Trafford and away to Liverpool and Manchester City. Those three games yielded a single point.
Moyes has also been unlucky that last year's top scorer Robin van Persie, injury free for so long, picked up a problem before the trip to Manchester City.
To succeed such a significant figure as Ferguson while at the same time making key changes to a successful squad made it arguably the hardest job at elite level in world football.
But this is a manager, despite his lack of silverware and Champions League experiences, who knows his way around the Premier League.
Moyes was the central figure at Everton when he succeeded Walter Smith in 2002 with the club threatened by imminent relegation.
In his last seven seasons at Everton they were never lower than eighth and this included two fifth-place finishes. His finest achievement was qualifying in fourth place for the Champions League qualifiers the season after selling Wayne Rooney to United - a feat described as "a miracle" by no less an authority than Arsene Wenger.
This is a manager with Premier League pedigree, even if United does present a unique challenge.
That is the case for Moyes' defence. His time at Old Trafford is in its infancy and any rush to hasty judgement is unfair and uncalled for - but there are key questions surrounding his early months at Manchester United.
Failure in the summer transfer market
Manchester United's only major signing came moments before the transfer window closed when Marouane Fellaini signed from Everton in a £27.5m deal.
There were questions surrounding this move. If the Belgian was such a priority, why did Moyes not make the deal before a contract clause that meant he could be bought for £23.5m expired at the end of July? And, more importantly, was Fellaini the type of player United actually wanted?
United's midfield has been crying out for added class and creativity for several seasons, which is where the pursuit of Barcelona's Cesc Fabregas (even if it seemed doomed from the start) seemed to make sense.
Fellaini is a fine player but he does not fall into the class and creativity category. He prefers the holding midfield role where Michael Carrick already sits and is not a creator. He adds power and aerial threat but not the crucial qualities United were missing.
New chief executive Woodward took much of the blame for what was, despite some retrospective window dressing, a dismal failure in the transfer market but Moyes must also take his share.
He surely knew a joint bid of £28m for Fellaini and England defender Leighton Baines would only antagonise his former club Everton - and made the lone signing of Fellaini for £500,000 less on deadline day appear faintly ridiculous.
Other targets were not claimed as Baines and Ander Herrera stayed at Everton and Athletic Bilbao respectively. Thiago Alcantara went from Barcelona to Bayern Munich and another late deal for Real Madrid defender Fabio Coentrao floundered.
A key element of transfer market work is to try and find players better than those you have. Not always easy at Manchester United but one major signing, Fellaini, reflected a very poor performance in the market.
Whether United can cure this in January remains to be seen but they must learn the lessons of this failure or the penalties will be heavy.
Was Moyes right to let Sir Alex Ferguson's backroom staff go?
Every new manager almost always brings his old backroom staff with him. It is virtually a reflex action.
Moyes made similar moves when he left Everton for Manchester United - but in losing all of Sir Alex Ferguson's old staff is he in danger of throwing the baby out with the bathwater?
He appointed assistant Steve Round, trusted advisor Jimmy Lumsden and goalkeeping coach Chris Woods and brought his former Everton captain Phil Neville back to Old Trafford as a coach.
Lumsden is regarded as Moyes' sounding board and the 65-year-old Scot has been with him since his formative years as Preston manager. Round is a respected coach who worked with Steve McClaren at Middlesbrough and during his time as England manager.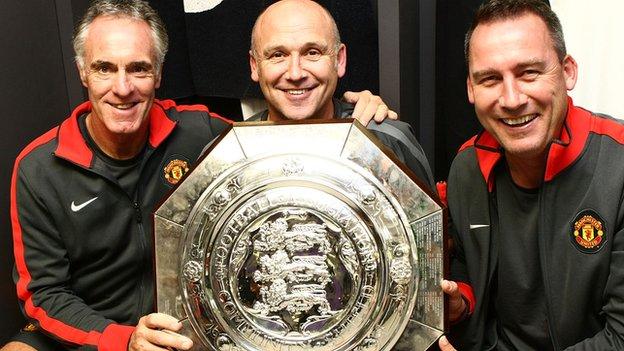 He is more of a training ground presence and the introduction of Neville was seen as an appointment that could bridge the gap between United's past and future after he formed a close bond with Moyes at Goodison Park.
These were understandable appointments, although the loss of goalkeeping coach Steele was commented upon widely given his close relationship with David De Gea and the role he played in his improvement and development.
Ryan Giggs was also added to the backroom staff, combining player duties with coaching, but has Moyes made a mistake by allowing Ferguson's closest cohorts Mike Phelan and Rene Meulensteen to leave?
Meulensteen has made his own significant coaching contributions to the Ferguson years plain in recent interviews, but surely Phelan would have been invaluable to Moyes as someone who has seen how it works under Ferguson, knew the players and had lived through the unique demands placed on the manager of Manchester United?
The Dutchman Meulensteen was hailed as "one of the best in the world" by Robin van Persie and worked in every department of United's coaching set up in 12 years at the club. He was delegated many duties by Ferguson, being regarded as a vital figure behind the scenes.
Phelan was the man seen most often alongside Ferguson, quiet and steady but with a vast knowledge of how United works and who the people are who make it work, having been promoted to first-team coach in 2001 following Steve McClaren's departure, and then to assistant manager in 2008.
Nothing wrong with bringing your own men - but in such a unique environment as Manchester United it might have been wise to keep a familiar face around. It could have been a valuable resource to tap into.
The Ferguson Factor
David Moyes, understandably, has had no time to build up the aura that undoubtedly surrounded Ferguson and spread out to his players, opponents, all supporters and yes - officials.
There is an argument to make that if Ferguson was manager of any of United's closest rivals in recent seasons they would have won those titles claimed by United. Ferguson seemed, on occasion, to drag United over the line.
Have clubs and players found it easier to say no to Moyes' United than to Ferguson's? Has the fear factor that used to swirl around Old Trafford with the brilliant management and intimidating presence of Ferguson disappeared?
Ferguson could not have ruled by fear alone otherwise his teams would not have played with such freedom - but there was always an air of what might face them if they failed to produce.
The sight of the menacing Ferguson standing in the technical area in that familiar black overcoat had an impact on matches and his surroundings. It was always going to be missed. Phrases were even invented for it, such as "Fergie Time" for those crucial added minutes that so often brought victory.
He was also the master of creating a siege mentality whereas Moyes has laid bare some of United's deficiencies so far this season - even publicly doubting whether they have the quality to win the Champions League.
Who will forget Ferguson's words "they know I'm not going away" moments after Manchester City took the title away from United on goal difference in stoppage time in 2012?
He then walked down the team coach on the return journey from Wearside and told his devastated players: "Never forget this because this will win you titles."
It did. The following season.
It is unlikely Ferguson would have talked down Champions League expectations but this is the different world Moyes now occupies and even his fiercest critics must accept he will take time to fully acclimatise.
He was able to create a siege mentality of his own at Everton when the occasion required, particularly after the departure of Rooney to Old Trafford and that wonderful 2004-2005 campaign when many thought they were prime candidates for relegation.
Moyes circled the wagons again when Joleon Lescott left for Manchester City in 2009. He was fiercely critical of the manner in which City pursued Lescott - although it was not unlike his own bid to sign Baines and Fellaini from Everton. He seemed driven by an added urge to beat them whenever they met afterwards and more often than not, did.
He was, and will be, a constant presence on the training ground. Coach and manager, attending games around the world to glean any knowledge to ensure he is not found wanting as Ferguson's successor.
Moyes will command the respect of his players but he is not Sir Alex Ferguson - and the Old Trafford dressing room was always going to be a strange place for the first few months after he retired.
Decline and fall
David Moyes talked of needing "five or six world-class players" to win the Champions League - and Manchester United simply do not possess them.
And perhaps more worryingly, those who once fell into that category are either ageing or in decline.
The 35-year-old Rio Ferdinand's laboured performance in defeat to West Bromwich Albion raised further question marks about his long-term future while Nemanja Vidic is 32 next month and has had injury problems of his own.
Ferguson thought he was taking care of that line of succession but injuries have held back the development of Chris Smalling and Phil Jones, who have yet to have lengthy spells in those positions.
Patrice Evra is 32 and was clearly the intended target for replacement by Leighton Baines while Robin van Persie, still a world-class player, is 30. Michael Carrick is 32 and his recent anonymous display against Manchester City revived familiar doubts about his influence when the heat is on.
The disappointing Anderson has had more than enough chances, Antonio Valencia has regressed while the award of a five-year deal to Nani only seemed to reward rank inconsistency.
Antonio Valencia stats since joining Man Utd

2009-10

2010-11

2011-12

2012-13

2013-14

Appearances

34

10

27

30

5

Minutes played

2615

741

2120

2210

389

Shots

38

7

26

17

1

Shooting accuracy

50%

33.33%

47.06%

28.52%

0

Goals

5

1

4

1

0

Chances created (inc assists)

89

24

65

41

5

Crosses and corners

216

71

178

163

19

Crosses and corners accuracy

33.8%

29.58%

25.28%

23.93%

15.79%

Assists

7

2

13

5

1

Stats courtesy of Opta
Tom Cleverley is another player whose reputation, although fading now, is not supported by performances. The same applies to the very disappointing Ashley Young while Moyes seems singularly unconvinced by Shinji Kagawa. Can a place be found for the predatory Javier Hernandez?
So Moyes has quite a renewal to oversee at Old Trafford, one which will not make his job any easier at a club that demands achievement at home and abroad.
The irony is that the one United player who has risen above all the questions being asked is Wayne Rooney, disaffected under Ferguson and determined to leave Old Trafford this summer.
He has been magnificent and Moyes, along with United's hierarchy, deserve credit for refusing to sell.
What do Manchester United need?
Moyes and United need the period of calm and stability that victories bring and there is still talent within the squad - but something is missing.
The old tempo has been lost, teams no longer appear to fear United and there is still an element of real world-class talent missing from the squad.
United simply have to find that world-class midfield player. Herrera was elevated towards this status but how much do we really know about him? How will he suit the Premier League even if he arrives?
Herrera would provide the creative spark alongside Fellaini, Carrick or both - but again if he was such a sure-fire thing why were United still waiting to conclude a deal when the clock ticked down on deadline day?
Moyes must also look to secure a new central defender to bolster the creaks currently being heard, with Porto's Eliaquim Mangala touted as a target while he must also address a lack of quality service from wide areas.
Mangala will add power and youth in that crucial department as, for all the enduring abilities of Ferdinand and Vidic, the once-great partnership is showing signs of wear and tear.
It seems certain he will try once again to find the long-term replacement for Evra but does he try again for Baines, 29 in December and with Everton as likely to be equally intransigent, or go for a younger option such as Southampton's Luke Shaw?
Baines is the instant replacement but will be expensive. There is still life left in Evra and Shaw is regarded as one of the finest young left-back prospects around and could secure the position for years should the Saints be tempted to sell.
Hope springs eternal with Van Persie's talent at his disposal and Moyes will be keen to secure long-term commitment from Rooney on the basis of his brilliance this season.
And the inconsistency of others has also brought consolation. No team has won the title since 1950 after losing three of their first six games and this is United's worst start for 24 years - but this looks like being the most open and unpredictable race for years.
These are not crisis times for Moyes but troubled times. United have shown their faith with a six-year deal and will not be panicked in any way - but Moyes will know answers must be found quickly.