Portsmouth boss Guy Whittingham slams team's lack of desire
Last updated on .From the section Football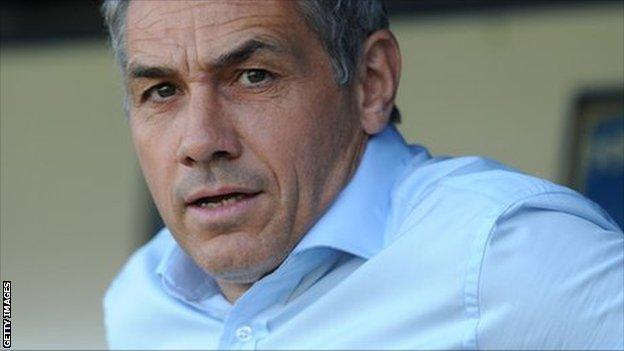 Portsmouth boss Guy Whittingham says the lack of desire shown in their 4-2 defeat by York must never be repeated.
The Pompey boss slammed the performance of his players, with only Jed Wallace earning any credit from the manager.
"I am extremely surprised by the performance. We need to make sure it doesn't happen again," Whittingham told BBC Radio Solent.
He admitted that 19-year-old Wallace's superb goal after 53 minutes was the only highlight of the game.
"He was a stand-out player for us. He took a grip of the game and he should have been on a winning side with that performance," said Whittingham.
"You can protect people so much if you feel that they've given their all. We didn't give our all and I've got to say that's the first time it's happened and it's got to be the last time.
Whittingham said his side's lack of hunger was apparent from the opening whistle.
"I'm extremely disappointed. It started right from the first minute - we didn't go and win a header, they're suddenly on top of us.
"All you ever want to see from players, our players, is that desire; desire to do well and desire for hard work and their hard work was much more than ours and that's what's cost us the game," he added.
"It's not a case of playing well or not playing well, it's that desire to work hard and we didn't have that.
"You can't get away with what we did and expect to stay in games."