Ritchie Humphreys: New chairman aims to strengthen PFA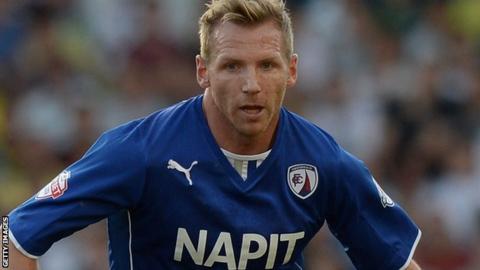 Incoming chairman Ritchie Humphreys aims to improve the support the Professional Footballers' Association offers to past and present players.
The Chesterfield midfielder, 35, will take over from current chairman Clarke Carlisle in mid-November.
He told BBC Radio Sheffield: "It's a short career, on average seven years.
"We must and do try hard to make sure those who come out of the game for whatever reason are in a decent state to start their second career."
Humphreys, who began his playing career with Sheffield Wednesday in 1996, before going on to make over 500 appearances for Hartlepool United, said he had been fortunate compared to many others.
"There are a lot of young lads who don't make it in the professional game, and it's very important we try and get them education and qualifications to go out into the work place and get jobs, as well as those who've had to retire through injury.
"I've been on the management committee for a number of years now, and I think there's been some fantastic work done by the organisation since it first formed, and that we've grown as an organisation and a union terrifically well.
"What's in place is already amazing, and I want us to continue to add to that."