Sunderland leave Ball in charge for Man Utd match
Last updated on .From the section Sunderland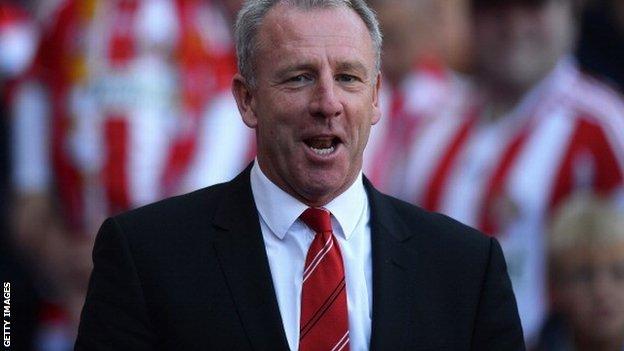 Sunderland interim coach Kevin Ball will remain in charge for Saturday's Premier League match against Manchester United at the Stadium of Light.
Ball took over after a player revolt led to the dismissal of manager Paolo Di Canio on 23 September.
Chief executive Margaret Byrne said appointing a new head coach was a "matter of priority" but added that the club had set no definite timescale.
Ball's first league match ended in a 3-1 defeat by Liverpool on Sunday.
The 48-year-old has admitted he would like to be considered for the role of Di Canio's permanent successor, though Byrne said there had been a lot of interest in the position.
"I am sure that you have read and heard all kinds of rumours and speculation about potential targets, but much of this is guesswork," wrote Byrne in Sunday's match programme ahead of the Liverpool game.
"We have had contact with some interested parties already and have others to speak to in the coming days.
"As soon as we have identified the right person to take the club forward, we will make an announcement."
Captain John O'Shea has said the club needed to move on from Di Canio's 13-game tenure, confirming the players played a role in the Italian's departure.
Sunderland are bottom of the Premier League with one point from the opening six games,
"Whoever comes in, whether it's Bally [Kevin Ball] or a new manager, we have some difficult times ahead," the defender told the Sunderland Echo.
"We have to stick together and if we keep going back to it [Di Canio], it will soon be to hard to pull back from where we are."