Celtic boss Neil Lennon sad that Lionel Messi is injured
Last updated on .From the section Football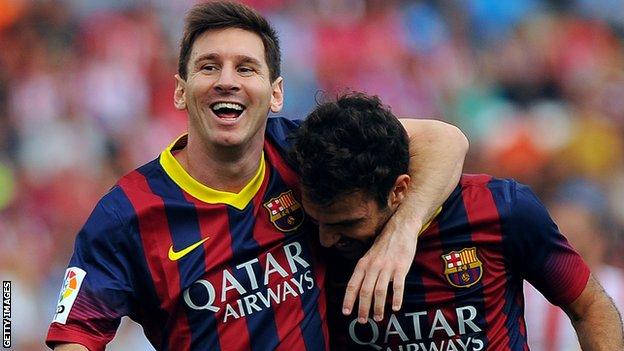 Celtic manager Neil Lennon says it is a shame that Barcelona striker Tuesday night's meeting of the two sides.
The world player of the year will miss the with a thigh injury.
"It's obviously very good news for us because for me he's the best player in the world," said Lennon.
"But it's also tinged with sadness as it's always good to see the best players here in Glasgow."
Messi was on but it will be the first time Brazilian team-mate Neymar will play against the Scottish champions.
Asked to compare the two, Lennon said that only Real Madrid's Cristiano Ronaldo was a match for the Argentina international.
"It's like comparing a dog with a cat," he said of Brazil forward Neymar, who joined Barca from Santos in the summer. "They are two different types.
"Neymar's wonderfully gifted, but the only player who can be compared to Messi is Cristiano Ronaldo."
Barcelona have started their domestic season with seven straight victories and beat Ajax 4-0 in their opening Group H game - with Messi scoring a hat-trick.
"They are a fantastic team and one of the favourites to win the trophy," said Lennon. "Better than last year? We can't really judge that until the turn of the year.
"They have defensive problems through injuries, but they're keeping clean sheets.
"Regardless of personnel, they are defending well.
"Barcelona, in my personal opinion, are a class above and have been consistently the best club side for 10 years now, although Bayern Munich look to have now taken over that mantle."
Georgios Samaras scored a hat-trick as Celtic continued their own fine Scottish Premiership form with a 5-2 hammering of Kilmarnock at Rugby Park.
"He's hugely influential in these European games," Lennon said of the Greece forward. "He enjoys the arena and the challenges these games bring.
"If we are to get something out of the game, I need Samaras to have a big game.
"You need luck if you want to get something off Barca - and a good goalkeeper and, with Fraser Forster, I have one of the best in the competition."
Celtic reached the last 16 by finishing second behind Barcelona a year ago and Lennon insisted his side would be able to qualify even if they lose on Tuesday.
"Did I learn from last year? I learnt more from my players than the results," said Lennon, suggesting his main tactic will be to contain their talented opponents.
"Like last year, we didn't budget for anything out of the Barcelona games, but if we do get something it would be huge going forward.
"If we don't prevail in this game, and Milan beat Ajax, it will be increasingly difficult.
"But it won't be the end of the world if we don't win with the Ajax double header and Milan still to come here."