Chelsea were rough on Rafael Benitez, says Arsene Wenger
Last updated on .From the section European Football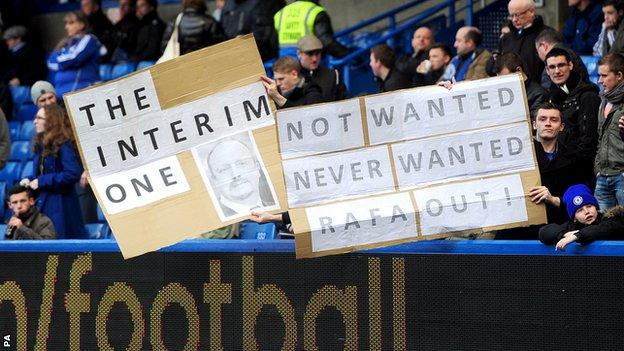 Arsenal boss Arsene Wenger says Rafael Benitez was given a tough time at Chelsea - but believes history will show he did a good job for them.
Benitez, 53, brings his Napoli side to London to face the Gunners in the Champions League on Tuesday.
The Spaniard took interim charge at Chelsea last November, leading them to the Europa League title, but failed to win over a section of the club's fans.
Asked if Benitez was given a rough ride at Chelsea, Wenger replied: "Yes."
He added: "People were tough with him because they didn't expect him to go to Chelsea but he did very well. He dealt well with it.
"In the end, with time going on people will realise that he did well."
Benitez, who also guided Chelsea to third in the Premier League, left Stamford Bridge to take over at Napoli in May. He will lead the Serie A side as they take on Arsenal in a Champions League Group F clash.
Both teams won their opening group games and, while the Gunners are top of the Premier League, Napoli have also started the season strongly as they are second in the Italian top flight, having taken 16 points from a possible 18.
"He (Benitez) is a top class manager and he has proven that," said Wenger. "When you are confronted by his teams, you know that it will always be difficult."
Benitez was similarly complimentary when asked about Wenger, saying: "I am expecting a strong team because I think Arsene Wenger is the best coach in the Premier League.
"They have signed good players, at this point everything going well for them. Wenger is a great manager, a great person, someone who knows the league here in England.
"He has experience in Europe, Arsenal is always top four and he is doing great job. Hopefully he can win the Champions League, but another year, not this one."
Arsenal won at Marseille in their first group game, but Wenger has emphasised the importance of good home form in a group also including German side Borussia Dortmund.
"Our home games are important because, having won away, if we win our home games we will be there [in the next round]," he said.
Arsenal came under severe criticism after a 3-1 defeat at home to Aston Villa on the opening day of the Premier League season, but Wenger's side have responded by reeling off nine successive wins in all competitions.
"It was a combination of factors [that led to the criticism]," said Wenger.
"The fact that we had not bought anybody, the fact that we had not won the championship for years and the fact that we started badly. All this together made the situation a little bit explosive. Purely on a results perspective, it is an accident that can happen.
"What people forgot about is that we were on a very long unbeaten run, as since March we had not lost a game [until the game against Villa].
"If you put that into perspective, it was just one single game that we lost in 21."
Wenger refused to get drawn into talk about his side being title contenders as he added: "In our job, the most important thing is to have a good balance between ambition and humility.
"Ambition because you want to win, humility as well because we know we have only played six games and to speak about the title is absolutely ridiculous.
"What we want to do is continue to have the same ambition. The team has a good humility level and is conscious that we want to improve."