Ben Turner praises Cardiff City's Premier League start
Last updated on .From the section Football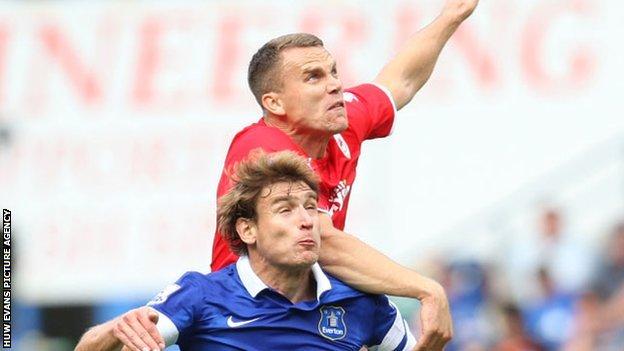 Cardiff City defender Ben Turner says the players have achieved their first objective in the Premier League by showing they are not a "soft touch".
The Bluebirds have eight points from their opening six matches after their 2-1 win at Fulham.
And Turner, 25, believes the club are in a "decent" position.
"I think over the first six games one thing that we've proved - and it was important to prove really quickly - is that we're hard to beat," he said.
"If you look at QPR last season, they didn't really make their mark early and teams thought they were a bit of a soft touch.
"The last thing we wanted to be was a soft touch and being easy to beat and getting rolled over every week, because once that starts happening everything can spiral.
"And the first thing that will go will be your confidence and then when your confidence has gone results are hard to come by."
Turner and Steven Caulker have been at the heart of a Cardiff defence that has proved hard to break down so far this season.
And Turner believes the players and fans could not have hoped for a better start to the club's first season in the top flight since 1962.
"I think we've started in a way that gives us a base level of confidence, so we know where we're at and hopefully during the course of the season we can build from that and play even better than we are," he said.
"I think everyone - and I think all the supporters would agree - [believe] we've started as well as we could have hoped.
"We're in a decent position in the league. We're in a decent position points-wise, but there's a long way to go and there's a lot of points to be won to ensure that we're actually in this league next season.
"That's our big prize this season - can we stay up? Anything above that will be just a bonus."