Ipswich Town boss Mick McCarthy hails 'fantastic' David McGoldrick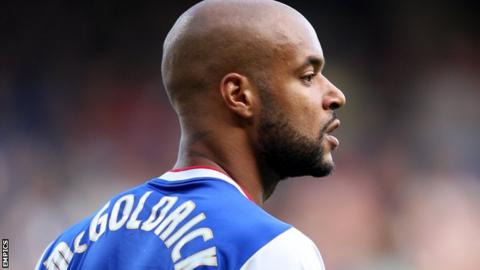 Ipswich Town boss Mick McCarthy has said striker David McGoldrick is proving why he was such a good signing in the summer.
The 25-year-old turned last season's loan move into a permanent deal in July and has scored five times this term.
"I thought there were a few clubs in for him. I remember being told that Leeds were in for him," McCarthy told BBC Radio Suffolk.
"It was a fantastic deal we did and I think everybody's seeing that now."
McGoldrick started last season at Nottingham Forest, who loaned him out to Coventry City, where he enjoyed a successful spell of scoring 17 goals in 25 games.
That prompted McCarthy to take him on loan and the forward never played for Forest again and was released in the summer.
After a strong pre-season, McGoldrick has led the Ipswich line well and added two goals to his tally in
"I've always been impressed with his ability. But he never played all the time. So you start to think 'what is wrong with David McGoldrick if he's got all that ability and doesn't play?'," said McCarthy.
"But we watched him for Coventry at Colchester one night and he was outstanding. Any doubts I had about him didn't last very long. We agreed to do a deal with him then.
"To be fair to [owner] Marcus Evans, we gave David a good contract. It was a good deal that he did and a good deal that we did.
"When people are saying we haven't spent anything - we've signed some good players."