Robbie Savage: How Everton get the best out of Romelu Lukaku
Last updated on .From the section Football

In his regular BBC Sport column on football tactics, Robbie Savage watches Everton continue their unbeaten start to the Premier League season with a devastating first-half attacking display in their 3-2 victory over Newcastle.
The way Romelu Lukaku and Ross Barkley linked up against the Magpies was sensational - and they showed us how difficult they will be to stop this season.
But there is a balance to the rest of this Everton team too. It helps them get the best out of players like Lukaku - Roberto Martinez's side is set up to play to its strengths.
Barkley and Lukaku link up in attack
It is hard to believe that was Lukaku's first start for Everton. They already looked like a team who knew how to use him to hurt opponents, and he showed again how effective at leading the line he can be.
Lukaku scored a great header to grab the winner at West Ham last week, when he demonstrated how brave and powerful he is.

He scored twice more against the Magpies on Monday, but we saw another of his strengths - his link-up play - together with his awareness and movement.
He was the focal point of their team - time and time again in the first half he brought other players into the game, either by laying the ball off to Barkley or Kevin Mirallas, or by making runs that left spaces for Everton's wide players down the flanks.
Newcastle were scared of him, which we saw from Everton's third goal when Tim Howard's clearance bounced all the way through to him - they were more worried about him than the ball.
How can you stop him? Well, it is very difficult to keep a lid on him, so to cut off his supply line is your best bet.
That is easier said than done, however, especially when he has got someone as effective as Barkley behind him.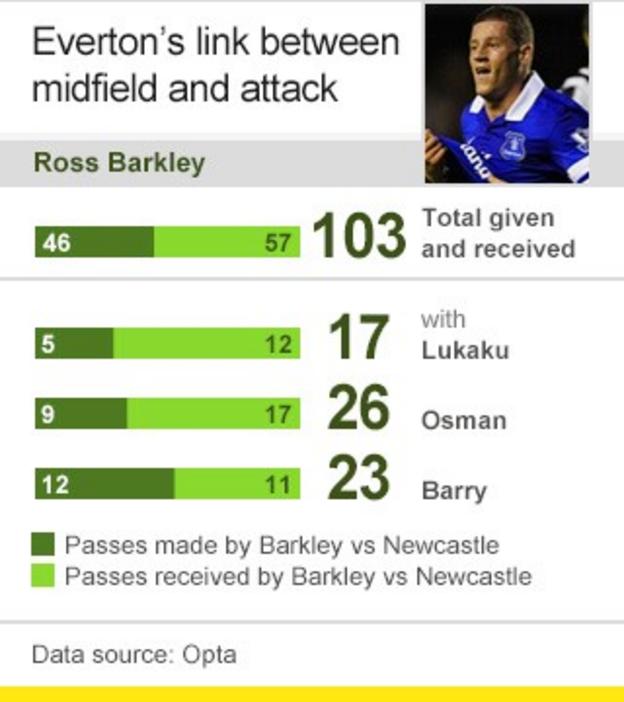 Against Newcastle, Barkley was the first player Lukaku looked for whenever he got the ball - he fed him more passes (12) than any other player. Osman and Barry gave him the ball more than they did anyone else too.
But Barkley was not just collecting the ball off the players behind him in midfield and supporting his striker - he was looking to run in beyond Lukaku too, and those runs were very difficult to track.
He was playing in the hole between midfield and attack as a classic number 10, but what was different about him was that he was operating more like a midfield player coming forward, than a centre-forward dropping deep.
Barkley has got pace and skill and he drives at defences - a bit like Paul Gascoigne used to do.
His awareness of people around him, and his use of the ball, quick feet and surging runs, was fantastic to watch. One of the best things about him was that he was not afraid to try things in those areas and lose the ball.
Full-backs pour forward for Everton
There were other Everton players helping to feed Lukaku too.
Mirallas was also playing off him, but more as a winger - on the right in the first half and the left in the second. It was his cross that led to Lukaku's first goal.
And it was from the wide areas that they kept on driving forwards. Martinez sent his full-backs Leighton Baines and Seamus Coleman charging on.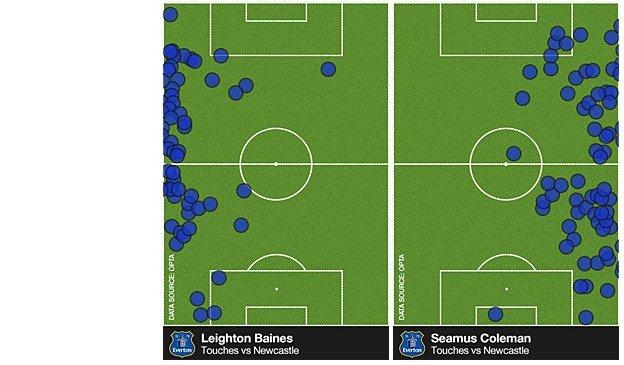 Baines deservedly gets the headlines because of his ability from set-pieces but Coleman deserves more credit for his hard work in attack and defence down the other flank.
Individually, there are better right-backs than him but, as a pair, Everton have the best two in the Premier League. He and Baines complement each other and their industry and attitude suits their team.
Barry keeps Toffees ticking over
Everton are not all about all-out attack, of course. They are a very well-balanced team.
In Gareth Barry, Martinez has a disciplined defensive midfielder, who sits in front of his centre-halves Sylvain Distin and Phil Jagielka and allows everybody else to get forward.
Barry patrols the middle third of the pitch - that is where most of his touches come - and his job is to organise the team and keep things ticking over.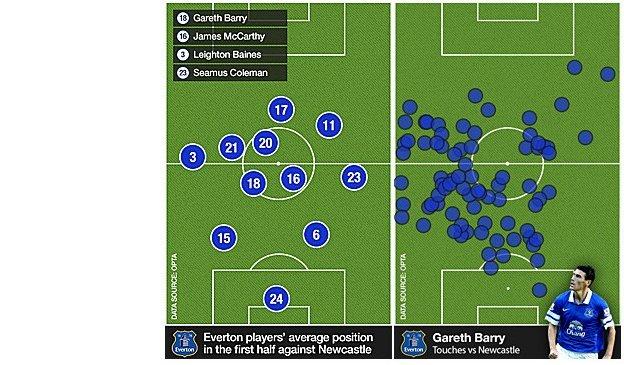 Barry played more passes (75) than any other Everton player on Monday. The next highest were Leon Osman and James McCarthy with 56 apiece.
His best work is defensive but, on his 500th Premier League appearance, Barry only made one touch in his own area - a vital interception when Newcastle threatened at the start of the second half.
The more I see of him, as well as Lukaku and McCarthy, the better the transfer business that Martinez did on deadline day becomes.
Bringing in those three after selling Marouane Fellaini is amazing when you think about how they have become an integral part of his team.
How far can Martinez take them? Well, they are not going to win the league. But we have seen enough of them this season to see they will give Manchester City some big problems at the Etihad Stadium on Saturday, and I am sure, like everyone else, Chelsea boss Jose Mourinho will be wondering why on earth he let Lukaku leave on loan.