A group of Rangers investors target board positions

By Chris McLaughlin
Senior Football Reporter, BBC Scotland
Last updated on .From the section Football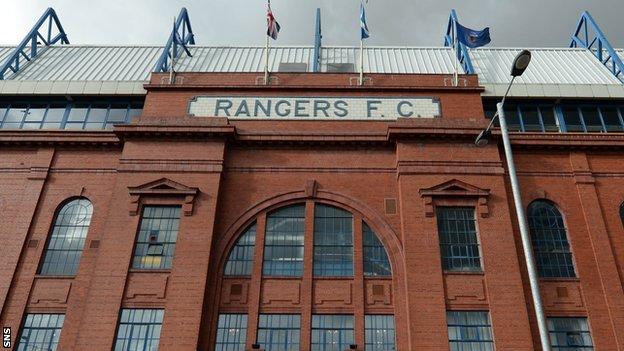 A group of investors have written to Rangers with a proposal to have four new directors appointed, including Paul Murray and Malcolm Murray.
The group wants the proposal put forward at the PLC's AGM next month.
Malcolm Murray is the club's former chairman and Paul Murray was previously a member of the board of The Rangers Football Club PLC, which was placed into liquidation last year.
The shareholders also want Scott Murdoch and Alex Wilson on the board.
Murdoch is currently a director of Loch Lomond Golf Club and Wilson is a former HR director with BT.
Previously, a group of disgruntled shareholders which included businessman Jim McColl, had issued a demanded for current directors Brian Stockbridge and Bryan Smart to stand down from the board of The Rangers International Football Club PLC (RIFC) , which is the parent company of The Rangers Football Club Ltd.
The group wanted accountant Frank Blin and former director Paul Murray appointed in their place, but have since withdrawn the request.
Rangers announced earlier this month that the board would consider a request for Blin, Paul Murray, former Ibrox chairman John McClelland and bus company tycoon Sandy Easdale, brother of current non-executive director James, to be added to the PLC board.
Sandy Easdale joined the football board on 14 September, with his brother James having been appointed in July after Charles Green's departure as chief executive.
RIFC's statement of annual accounts requires to be published a month before the company's annual meeting, which must take place no later than 31 October.
Shareholders require three weeks' notice for the company's AGM and advance sight of the accounting report, whereupon they will vote to accept or reject the accounts.