Swansea City: Peter Schmeichel backs Swans to 'go a long way'
Last updated on .From the section Swansea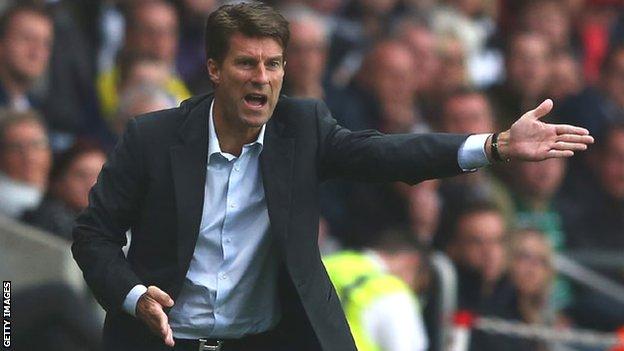 Swansea City are good enough to go a "long way" in the Europa League under Michael Laudrup, says his former Denmark team-mate Peter Schmeichel.
The ex-Manchester United goalkeeper believes the Swans are as good as Fulham, who reached the final in 2010.
Schmeichel also believes Laudrup could manage one of Europe's bigger clubs.
"Why not? Michael is one of the best football players this world has seen, and the results... have been incredible," the 49-year-old said.
Schmeichel won five Premier League titles and the Champions League during an eight-year spell at Old Trafford and was a key member of the Denmark side that won the European Championship in 1992.
He says Laudrup's pedigree as a player and track record as a manager mark him out as a future target for the likes of Real Madrid and Barcelona.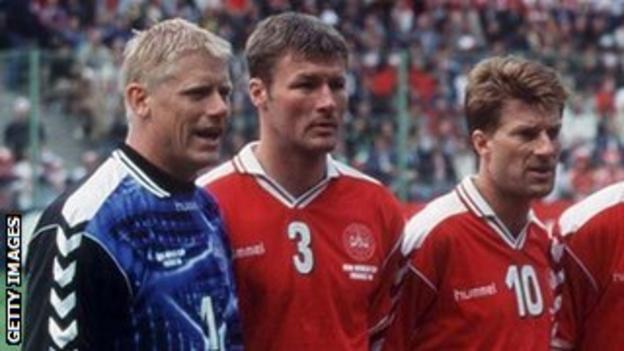 Swansea finished ninth in the Premier League and won the Capital One Cup in their first season under Laudrup, who previously managed Brondby, Getafe, Spartak Moscow and Mallorca.
"I think for what he did last season, he would definitely [have] been in one of the big clubs' sights," added Schmeichel.
"But if you stop producing results, if you stop putting your name out there for what you achieve with your team, people stop looking at you.
"So for Michael to get to that point, he has to improve with Swansea all the time. He has to make sure that the club will be featured in the headlines for what they do on the pitch.
"He's had a really, really tough introduction into management, he had two clubs in Spain, one in Russia, and four years at Brondby where he won the championship, so he's experienced now.
"It's all about what Michael wants and how enthusiastic he is about it."
Swansea marked their debut in the Europa League group stages with a 3-0 win in Valencia, and next face St Gallen at the Liberty Stadium on Thursday.
"It's in the cup competitions that Swansea really can make a mark," said Schmeichel.
"Fulham went all the way to the final and to be honest I don't see that much difference between Fulham and Swansea in terms of where they belong in the football hierarchy, if you like.
"There's every chance that Swansea can go a long way in this competition."