Barcelona miss Lionel Messi but still pose Celtic danger

By Thomas McGuigan
BBC Sport
Last updated on .From the section Football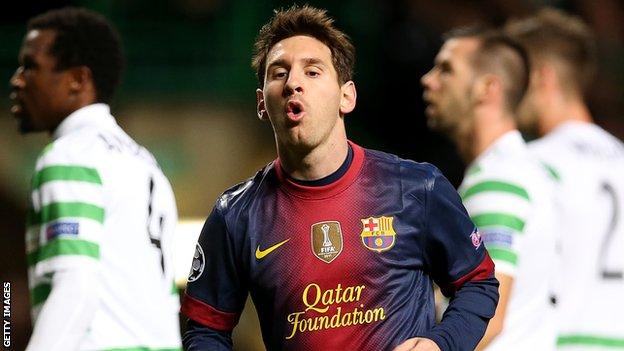 When he glides across the pitch with opposition defenders falling over like skittles, Lionel Messi can take the breath away.
at Celtic Park with a thigh injury, but Celtic will still face a formidable side.
New manager Gerardo Martino has already set a club record. Messi was on target in Saturday's 2-0 win against Almeria, as Barcelona won their seventh straight league game.
With Neymar, Alexis Sanchez, Pedro and Cesc Fabregas all carrying a goalscoring threat, how much will the Catalans miss their talismanic Argentine?
"I think to pay due respect to the Celtic sides of Gordon Strachan and Neil Lennon that have played Barcelona recently, while Messi has occasionally scored, it's not always been the case that he's run the game," journalist and Spanish football expert Graham Hunter told BBC Scotland.
"If you take away a player, who I've been watching since he was 16, who is a candidate to be called one of the greatest players of all time, it allows more slippage room for Celtic's defenders.
"It doesn't mean that Barcelona are helpless but they look to Messi."
The Catalans opened their Champions League campaign with a 4-0 win over Ajax, while Celtic were beaten 2-0 by AC Milan.
Hunter said: "Against Ajax, who could easily have led at half-time, it was a Messi hat-trick that utterly changed the game.
"Gradually, over the past few months, Barcelona have been learning not to be a one-man team."
Despite sitting top of La Liga ahead of Atletico Madrid, Martino's style of play has strayed from the tiki-taka passing style honed under former coach Pep Guardiola.
"I think it's a work in progress," Hunter says of the new regime. "Barcelona are top of the league, they're unbeaten and it's the first time in their history they've won seven straight league games. And they did beat Ajax 4-0.
"The players are adapting to play a different style of football; basically, they want the ball and they keep the ball.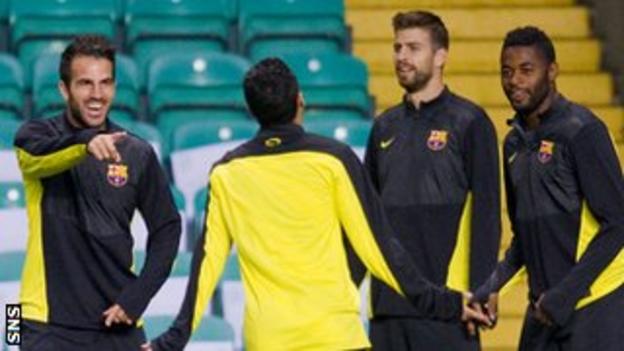 "They look to their electric talents and pass brilliantly but every now and again they're prepared to lose possession by punting the ball and looking for speed up front.
"That was something completely forbidden under Pep Guardiola and [Martino's predecessor] Tito Vilanova; it's a slight evolution, not revolution, but it's caused great soul-searching in Spain.
"If the Champions League atmosphere drives Celtic on then they may find themselves a little bit surprised.
"Barca will occasionally say, 'yes, we're going to get this ball out of the danger zone'.
"Given last year's result (at Celtic Park) maybe Barcelona need to do that."
Victor Wanyama and Kelvin Wilson both starred in Celtic's memorable 2-1 victory over Barca last season. They have since left the club, as have Miku and Gary Hooper.
The visitors have seen striker David Villa depart for Atletico Madrid, and they are also without injured trio Javier Mascherano, Jordi Alba and captain Carles Puyol.
Asked about the significance of Messi's absence, Celtic boss Lennon said: "It's obviously very good news for us because for me he's the best player in the world.
"But it's also tinged with sadness as it's always good to see the best players here in Glasgow."
That sadness will turn to joy if Celtic can emulate last season's victory over Barcelona.
Graham Hunter was speaking to BBC Scotland's David McDaid.