Luis Suarez: Steven Gerrard thought striker would leave Reds
Last updated on .From the section Football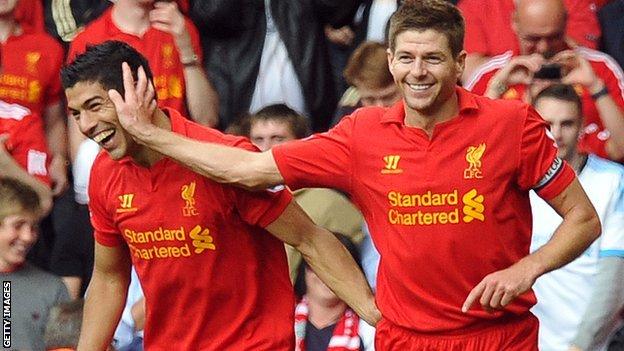 Liverpool captain Steven Gerrard says he feared striker Luis Suarez would leave the club during the summer.
Asked if he thought he had played his last game with Suarez, Gerrard said: "Every day in the summer.
"When you have a player as good as Luis Suarez, you know that the big clubs are going to want him."
Gerrard, 33, added he was "waking up every morning, hoping that nothing would happen and that he would still be here".
Suarez returned to action for Liverpool, following a 10-game ban for biting Branislav Ivanovic, when he started in the Capital One Cup defeat at Manchester United last Wednesday.
The Uruguayan made his Premier League return in Sunday's 3-1 victory at Sunderland and scored twice for the Reds.
"Nobody tried harder than me to make him stay and he knows exactly what I think of him," said Gerrard.
"I knew if we could keep him here, the better our chances would be.
"He is a special type of footballer and he gives us something different.
"When the club got the message to him that they were not going to sell him, he got his head down and has worked hard. He has never given us a moment's problem.
"I think it is a credit to Luis for the way he has come back. A lot of players who have been in his position might have come back and spat the dummy out, not trying for the team. But he is not that type of guy.
"He realised that the club wanted to keep him and he has respected their decision. He is here now and he wants to stay. He wants to achieve something this season and he looks as hungry as he has ever done."