Paul Hegarty says Derry clearout could include management
Last updated on .From the section Football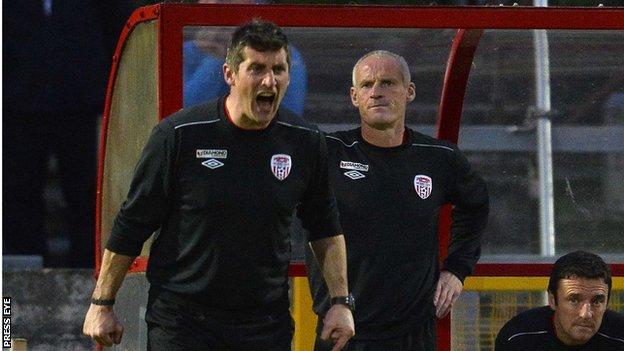 Derry City assistant boss Paul Hegarty has admitted that a likely clearout from the Brandywell at the end of this season could include the management.
Afterwards, Hegarty said that there would "probably be a lot of changes in personnel next season."
"Right from the players to probably the staff," added the Derry assistant boss.
Asked whether he and manager Devine will be in charge at the start of next season, Hegarty replied:"It's a very difficult question to ask. If I'm being honest, I don't know.
"It will be up to the board. I'm sure they will sit down at the end of the season and assess what has happened and what has gone on through the season and they will decide whether it has been successful or not.
"When you look at the moment, maybe it is time for a change."
Derry's defeat at Oriel Park dropped to them fifth place in the table following Shamrock Rovers's 3-0 victory over Bray Wanderers.
If Derry are to grab a place in the 2014/15 Europa League, they need to finish fourth and hope Dundalk or Sligo win the FAI Cup.
Derry have a game in hand on Rovers but given the recent form of the Candystripes, the Dublin club may fancy their chances of holding on to fourth spot.
The Brandywell outfit felt that they were the victim of a couple of crucial decisions in Monday's game in in Dundalk.
They claimed Michael Rafter was brought down by home keeper Peter Cherrie, but the Derry man was booked for diving.
If that sixth-minute decision had gone the other way, Cherrie would probably have been dismissed.
Hegarty also insisted that Richie Towell's second Dundalk goal on 27 minutes should have been ruled out for offside.
"We gave away a poor (first goal) and for the second one, the guy was a mile offside. Big decisions in games," added Hegarty.
"We started off really well in the match. Played some good stuff and we could have been going in at half-time maybe in front. Five minutes of madness cost us the game.
"But they were poor goals from our point of view. That has been a major problem for us this season."
Reflecting on the team's freefall since the mid-season break in June, Hegarty said that the absence of injured senior players Kevin Deery and Stewart Greacen had been a major contributory factor.
"At the minute, we're giving away bad goal after bad goal.
"When things are going against you, that's when you need your senior players to stand up and we're missing Kevin Deery and Stewart Greacen for most of the season.
"We needed them at that stage when things were starting to get a bit rocky."