Nigeria's decision to widen scouting network commended
By Oluwashina Okeleji
BBC Sport, Lagos
Last updated on .From the section Football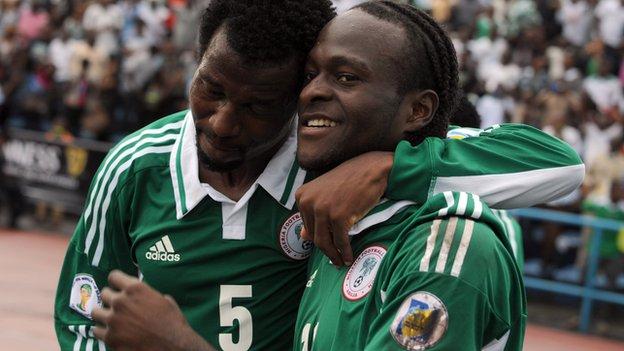 Nigeria's decision to scout and recruit foreign-born players for the national team has been backed by the country's league.
The Nigerian Football Federation (NFF) is to set up a unit to locate and try to persuade players born to Nigerian parents, but living abroad, to play for the Super Eagles.
Recently, Nigeria has lost out on David Alaba, Gabriel Agbonlahor, John Okwunwanne, Angelo Ogbonna, Oguchi Onyewu and Maurice Edu - who all qualify to play for Nigeria but opted to represent other nations.
That situation has led the NFF to spread its net wider in the hope of capturing players who are eligible for the African Champions.
And the plan has gone down well with the league organisers.
"It's a welcome development and one to applaud," Nduka Irabor Nduka Irabor told BBC Sport.
"I think this will further motivate and challenge the home-grown talent to improve and show that they are equally good, if not better, technically."
Irabor says the decision to set up this unit within the NFF will not in anyway obstruct the development of home-grown talent.
"This idea is not an indictment on the league or home-grown players," he said
"When you look at the core of the present Super Eagles squad, it has players from the Nigerian local league.
"People don't care whether a player comes from the moon or under the sea, they all represent Nigeria, which is very significant."
According to the NFF's technical director, Emmanuel Ikpeme, the football body has only decided to follow a normal practice.
"There must be a unit within the football secretariat handling matters concerning eligible players, it is the responsibility of the technical department," Ikpeme said.
"The unit's job description will be to search, identify and try to recruit players abroad who genuinely want to play for the country.
"We can only complement the job of the coach because he cannot easily identify all these players on his own.
"We have great respect for the talents in the country, it's exactly why they are the reigning African Champions.
"Those who want to represent Nigeria will be encouraged, given proper guidance and recommended to selectors.
"For those who may decide not to or find it unattractive, we will respect their decision and wish them well."
Despite convincing players like Sone Aluko, Victor Anichebe, Victor Moses and Shola Ameobi to switch allegiances from England to Nigeria, the NFF have let others slip away.
Agbonlahor, Alaba and Edu opted for England, Austria and USA respectively, and revealed they were never approached by the West African country.