The Hive: Barnet in stadium planning dispute with council
Last updated on .From the section Football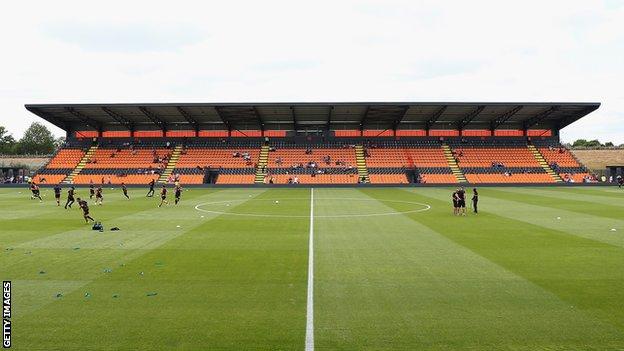 Barnet are to appeal against an enforcement notice from Harrow Borough Council over the height of the West Stand and floodlights at The Hive.
The council says the club have flouted planning permission after moving into the Camrose Avenue ground this summer.
"Should the appeal go against The Hive there are simple remedies in terms of restructuring the stand and the floodlights," a club statement said.
"[These remedies] in no way compromise the future of the club."
The club were served with the notice last Friday and have 28 days to lodge an appeal.
Should the notice be enforced, the club will have six months to demolish the stand and three months to remove the lights at The Hive or risk facing prosecution.
Barnet say they would be able to lower the height of both, but insist the council was aware the height of the West Stand had been increased and that the floodlights had been made taller to reduce light pollution to surrounding properties.
"The council were aware of this change [in the West Stand height] and officers supported this minor amendment at a recent planning meeting," the club said.
"Once The Hive realised floodlights may cause an issue for those close to the site, a remedy was sought.
"Acting as a good neighbour and in order to lessen this problem, they decided to spend an extra £30,000 and increase the height of the floodlight masts by 10 metres so that they can be aimed down by an angle greater [and] cause less light spillage to adjoining properties.
"At every stage of the building process the council have been kept aware of progress and the feedback received was that there were no significant areas of concern."
The club moved to The Hive this summer after leaving Underhill, their home since 1907, because of lease issues with Barnet Council.
And they believe the latest problem has been caused, in part, by "political instability" within Harrow council, which led to the planning permission process becoming "painfully slow".
The club statement added: "The appeal will be heard by an independent inspector who will evaluate the application by The Hive and make a judgement as to whether the club has acted in a fair and reasonable manner, or not.
"We are confident that the behaviour and intentions throughout were exemplary.
"Should the judgement go against The Hive with regard to the height of the stand it is a relatively straight-forward operation to alter its dimensions, as is the lowering of the floodlights."