Mesut Ozil: Arsenal midfielder has fans daring to dream again

By Phil McNulty
Chief football writer
Last updated on .From the section Arsenal1280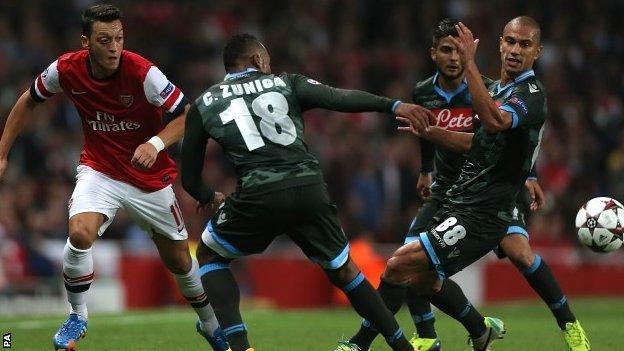 The famous clock perched high at one end of Emirates Stadium had us eight minutes into Arsenal's Champions League meeting with Rafael Benitez's Napoli, the supposed dark horses in the hazardous Group F.
Olivier Giroud flicked the ball along the line to Aaron Ramsey, two of the symbols of Arsenal's recent renaissance joining forces to open up the left side of Napoli's defence. Ramsey broke into the area, took a look and picked out Mesut Ozil on the edge of the area.
Ozil, a deadly combination of grace and danger, barely broke stride or sweat to sweep a precise side-foot finish out of the reach of diving Napoli keeper Pepe Reina to give Arsenal an advantage they were never in danger of surrendering.
Arsene Wenger has often been accused of allowing his team to go in search of the near-perfect goal at the expense of the game's practicalities. The manager's punch of the night air and beaming smile, the years seeming to fall away, suggested this was a thing of beauty that would keep him warm when he eventually walks away.
The Frenchman likes the finer things in football. Ozil and the goal he scored fall into that category.
Arsenal's fans rose with Wenger to acclaim the German midfield man whose arrival has elevated the spirits of a club that was in danger of crisis to the point where they can start daring to dream.
Not about winning the Champions League, even though this 2-0 win over Napoli puts them in command of their group. Not about winning the Premier League, even though they head the table.
It is too early for that - but what a different club Arsenal is and what a different place the Emirates is from the seething mass of frustration it has become in eight trophyless years.
And so much of this sense of wellbeing can be apportioned, on so many levels, to the slender figure of Ozil.
As another under-achieving season drew to a close, Arsenal chief executive Ivan Gazidis took arms against those who questioned the club's ambition, who claimed they were happier with money in the bank rather than on the pitch in the form of world-class players.
Anyone who visited last season was left in no doubt that thousands of fans were angry, they felt with justification. Defeat by Aston Villa on the opening day of this season felt like a tipping point.
Arsenal's interest in Liverpool striker Luis Suarez not only fell flat but caused the failure of their move for Real Madrid's Gonzalo Higuain.
And then, on deadline day, along came Ozil and clouds (at least for now) have rolled away.
He has lifted every aspect of Arsenal Football Club. He has made them and their supporters feel like they really belong in elevated company once more.
Arsenal's decision to pay a club-record £42m to Real Madrid for Ozil was the game-changer with fans who questioned their desire to pay serious money. The spin-offs do not simply come from sales of the personalised Ozil shirts that poured out of Holloway Road station on Tuesday.
His presence has lifted the confidence of his team-mates, revelling in having him among them. They are glad to be around him. He even appears to have given Wenger a more youthful appearance.
The opening goal was elegance and power combined to perfection. Seven minutes later it was subtlety as once again Napoli's left side was exposed, a deft flick of Ozil's left foot setting up Giroud.
Wenger had become used to waving his best players off at the door in the direction of Barcelona, Manchester City and, perhaps most painfully, Manchester United in the case of Robin van Persie.
Now one has come through the entrance and while it is too early to suggest Arsenal will come out of the darkness into the light, Ozil's galvanising effect has been remarkable.
All Arsenal fans wanted - and who could blame them? - was to see a world-class player arrive rather than depart. Ozil is giving them what they craved.
They will point to him as proof of their argument that if you pay big money for high quality, you will be rewarded. It was hard to argue against that logic as Napoli tried in vain to contain him during a magical first half.
Ozil is now Arsenal's fulcrum. Jack Wilshere was on the bench and Ramsey, excellent again, was used more on the right. Mikel Arteta was holding things together along with Tomas Rosicky - and all this with Theo Walcott, Alex Oxlade-Chamberlain and Santi Cazorla injured.
Wenger also had his old sergeant major Mathieu Flamini barking orders in midfield, the steel to Ozil's silk. He did not cost a penny but may yet prove to be a Wenger masterstroke.
Napoli were desperately poor, giving a lie to the good reviews that accompanied them to London, but Arsenal's opening phase was of such quality that Wenger had a little struggle recalling when they last produced a first half as good as the one here.
Wenger's name rang around the stadium with gusto in the closing moments, the acrimony on show after the Villa loss seemingly long forgotten, and the habitual wailing in the direction of the press box by supporters departing in fury replaced with joy.
It may last. It may not. No-one can, however, begrudge them their current joy after having their noses pressed up against the window watching other clubs enjoy themselves for so long.
And their greatest source of joy is Ozil. It was a moment that counted as the perfect present to celebrate Arsene Wenger's 17th anniversary as Arsenal manager - delivered in person by the most expensive player in the club's history.