Leeds United: Chairman Salah Nooruddin claims investment close
Last updated on .From the section Leeds United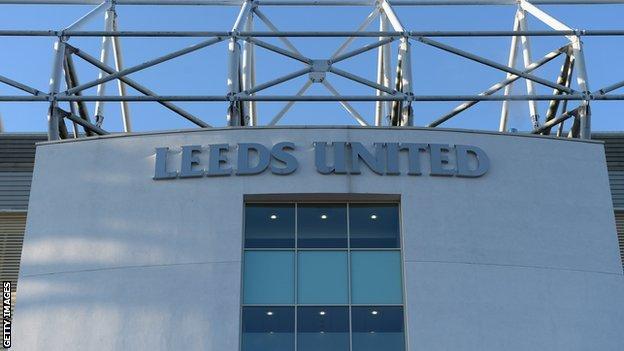 Leeds United chairman Salah Nooruddin claims the Championship club is close to attracting the investment required to take it "to the next level".
The Bahrain-based businessman also said huge progress had been made towards achieving financial stability.
He told BBC Radio Leeds: "We are very particular as to the quality and type of investor we want to bring in.
"But we have reached a situation where I would say we are close to engaging with one."
Some supporters have voiced concern at the lack of transfer funds made available to manager Brian McDermott before the transfer window closed last month.
Their worries were exacerbated by the run of three defeats that preceded Tuesday's 2-1 victory over Bournemouth - a win that lifted Leeds back up to 11th in the table.
Nooruddin confirmed that McDermott had clearance to make loan signings.
"We have mandated the manager to look out for someone suitable, who fits into the squad according to Brian's view, and the sooner we get someone the better," he said.
"The loan market is very tight. Brian came to us with a few names - with some we were not lucky, but we have shortlisted some and I think if we are lucky we could close with them very soon.
"In the loan market I think the wage will not be a problem, because it's for the short term. It should not be an issue and we have given Brian a clear hand to do that."
However, Nooruddin also admitted that attracting major new investment was the key to taking the club forward in the long term.
"There's a lot of interest, but we are looking for an investor that really adds value and can help us take the club to the next level," he said. "And we've been sometime doing that and I think something might be on the horizon.
"We need people who understand the dynamics of the football club. The reward could be huge, taking a club of Leeds' size and magnitude into the top flight will be a magnificent achievement for an investor.
"This is what prompted us to make an investment in Leeds. This is a special club, and any investment requires patience, it's for the long term, and has to be someone who loves football. It can't be purely financial."
Former Reading boss McDermott was appointed as Leeds manager in April, taking over from Neil Warnock, and Nooruddin, who became chairman in August, insisted the club's owners are happy with the 52-year-old former Reading boss.
"We had a very good start [to the season] and now we are trying to settle," he said. "We are very much pleased with Brian McDermott, he shares our long-term objectives, and we are going towards that long-term objective.
"You don't have to panic. I like Brian's style, he's very calm, very professional, he tries to balance the interests of the owners, the club, the fans, he understands well the dynamics, and he works within those parameters."