Dorchester Town boss Phil Simkin may play at age of 60
Last updated on .From the section Conference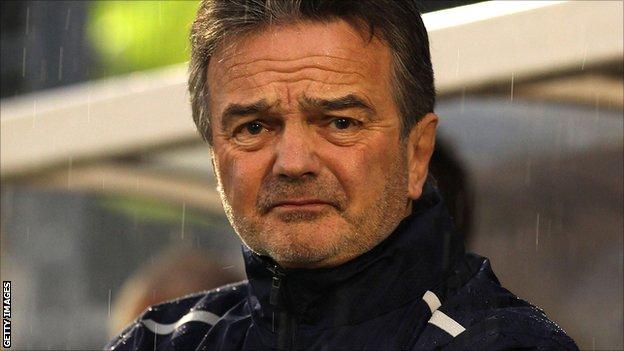 Sixty-year-old Dorchester Town manager Phil Simkin may be among his side's substitutes against Dover on Saturday because of the club's cash problems.
The Conference South outfit earned more than £50,000 after reaching the second round of the FA Cup last season but now have debts of more than £150,000.
As a result every player on the Dorset club's books is now for sale.
"I will be registering as a player so that we have a full bench," Simkin told BBC Radio Solent.
"Quite frankly I don't know what players will still be here on Thursday for selection against Dover. One way or another we need to put a team out. It's been very difficult."
The club's hopes of repeating last season's FA Cup run ended on Saturday when they lost to Shortwood United in the second qualifying round.
That result that has helped contribute to their financial problems and as well as putting every player up for sale, the club have also had to slash their playing budget by 50%.
"All the professionals are on the transfer list and it's a very sad time for everyone involved at the football club and we need to work through it," Simkin added.
"It was very sad telling the players, I've watched a team I worked very hard to put together disintegrate in front of my very eyes and for me it's personally very sad.
"It's hard to see a way forward. I've called in a lot of favours, people have been kind but it's a problem."
The club beat Plymouth 1-0 in November 2012 before eventually losing 2-1 to Luton Town.
And Simkin, who has a 30-year association with the club, admits he finds it hard to believe that less than 12 months on he is now having to take this course of action.
"It seems quite unbelievable that it's less than a year since that happened," he said "I honestly believed when the club walked off the pitch that night it would be financially stable for the next two or three years. Turned out I was wrong."