Barnsley: David Flitcroft predicts steady improvement
Last updated on .From the section Football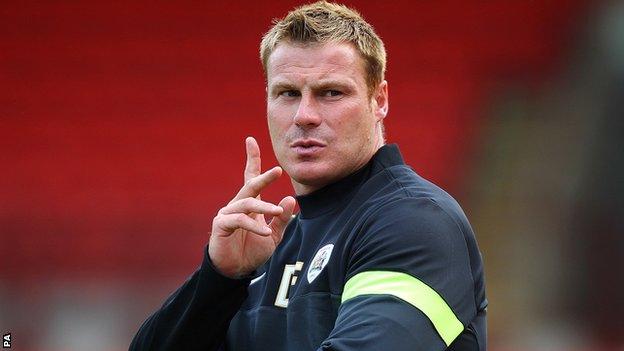 Manager David Flitcroft believes Barnsley have turned the corner after holding Championship promotion challengers Reading to a 1-1 draw.
The Tykes remain at the bottom of the table, but Flitcroft is certain they are heading in the right direction.
He told BBC Radio Sheffield: "We've had a tough run of games and we know where we're at.
"I see the balance improving in the team and I believe we'll just keep getting better."
The draw against the Royals followed a run of four consecutive defeats for Flitcroft's side, a sequence that had left the 39-year-old manager facing criticism from some supporters.
But Flitcroft was able to give home debuts to new loan signings David Fox in midfield and Jack Butland in goal, and saw his side dominate for long periods against a team which had won their previous three matches.
"I look at teams like Leicester and Reading who've had really steady teams in their last few games," said Flitcroft.
"We've had a lot of injuries, but if we can get a steady team and the right balance that's the key.
"I've no doubt we'll build something special here. It'll take a bit longer but I certainly believe in that.
"We had David Perkins on the front foot driving the team forward, Tom Cywka came on and has devilment in his play, Marcus Pedersen came on and looked dangerous in that box, Tom Kennedy's quality from left-back was sublime, Scott Wiseman was raiding down the right side - it was a real powerful, positive performance."
Flitcroft indicated that he was still looking to bring in at least one more player on loan to provide additional defensive cover.
"I have a lot of supporters, Dave Flitcroft supporters, who want us to do well," he said.
"I've got a lot of players who are fighting to do well, and we'll keep fighting. We'll keep going.
"I said two weeks ago after the Bournemouth game that was the point of the season I thought we needed to evolve a new football team, and I've been given the opportunity and board approval to do that.
"I love football and I love working. If I fall out of this job I will find work somewhere else and enjoy what I do.
"The pressure comes from everyone else, but I have an incredible family and incredible people around me.
" I'm a fighter, I've had a tough old life, and [criticism] won't affect me."