Fernando Torres: FA decision a disgrace - Andre Villas-Boas
Last updated on .From the section Football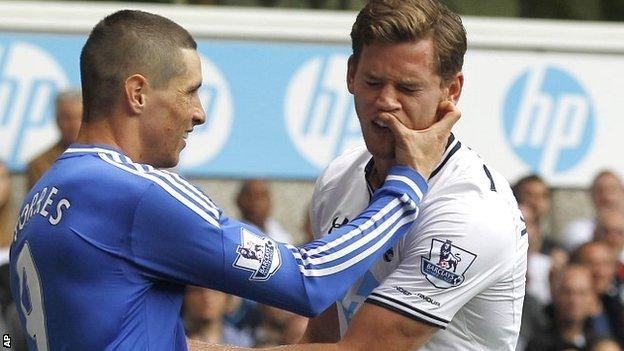 The decision not to ban Fernando Torres for scratching Tottenham defender Jan Vertonghen's face is "a disgrace", says Spurs boss Andre Villas-Boas.
The Football Association cannot take action as one of the match officials said he saw the incident between Chelsea striker Torres and Vertonghen, although "not in its entirety".
"The decision is a disgrace," said Villas-Boas.
The Portuguese also described the FA's lack of action as "almost farcical".
Torres tripped Vertonghen in the 50th minute of Saturday's 1-1 draw at White Hart Lane before the pair immediately squared up to each other.
The Spain striker, who was booked for the original foul, was sent off with 10 minutes remaining after receiving a second yellow card for an aerial challenge on the Belgium defender.
Chelsea manager Jose Mourinho called Vertonghen
Mourinho said on Tuesday: "The FA defends the interest and the culture of English football. It's not to protect cheats and people that simulate.
"To protect English football is to protect people who play the game with emotion, intensity."
Villas-Boas, who worked as a scout for Mourinho before embarking on his own managerial career which included an eight-month spell in charge of Chelsea during the 2011-12 season, said his complaint was with the FA rather than his former colleagues.
"It looks incredible," he added.
"How can you see the images, pretty clear, and come out without punishment, on something (which) overtakes all professional behaviour?
"Obviously, it is almost a farcical decision.
"It doesn't matter to me which player or club is involved.
"Neither do I want to put into question Fernando's integrity, neither their manager's, in trying to defend what is our position."
Former Manchester United goalkeeper Peter Schmeichel compared the incident to Liverpool striker Luis Suarez's bite on Chelsea defender Branislav Ivanovic which attracted a 10-game ban.
"If Suarez had done that people would have cried for another 10-game suspension," the Dane told BBC Match of the Day 2 Extra.