Birmingham City chief Peter Pannu dismisses takeover 'rumour'
Last updated on .From the section Football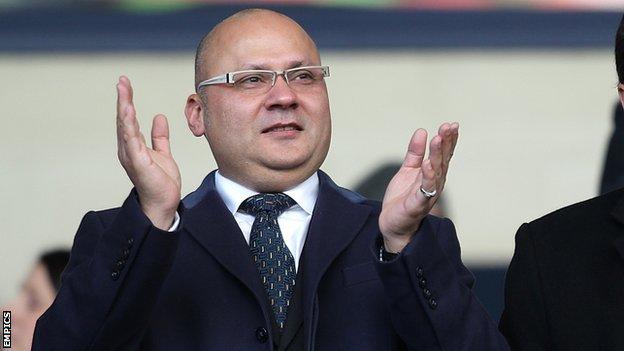 Birmingham City acting chairman Peter Pannu has dismissed rumours of a takeover at St Andrew's.
The Championship club, who have officially been open to offers since May 2012, attracted two bids a year ago, while there was another reported approach made in February.
But Pannu told the club website: "The rumour about a takeover is not correct.
"Due diligence was completed by a party some time ago and a time frame for an offer was set but we heard no more."
Pannu, chief executive of Birmingham International Holdings Limited (the football club's Hong Kong-based parent company, owned by Carson Yeung), was at St Andrew's on Tuesday to witness Lee Clark's side thrash Millwall 4-0.
"Lee is doing a good job in very difficult circumstances," said Pannu.
"He has his arms and legs tied at the moment given our financial constraints as a result of Carson Yeung's predicament.
"Two and a half years ago when Carson Yeung's assets were frozen as a result of his arrest, things were not looking good at all for the club and at one point we owed HSBC £7m and other outstanding payments for players we had purchased.
"I regret that we are unable to give our manager more financial support but he continues to work hard and does a great job.
"What he has achieved with the resources available and the spirit he has raised within the dressing room is commendable."
Birmingham's biggest win since March took their tally of goals at St Andrew's to 11 in 10 days (having also beaten Sheffield Wednesday 4-1, followed by the 3-1 Capital Cup win over Swansea City), but was played out in front of only 13,133 - their lowest league crowd in 19 years.
The dwindling crowds (their average gate dropped by almost 2,500 last season, while only 7,470 made it to the Swansea cup game) have caused concern.
But Pannu insists that he has not returned to the country to wrap up any imminent deal.
"I don't have an appointment to meet anybody during my time here in the UK," he said. "And, due to non-disclosure agreements, I don't wish to discuss this any further.
"There aren't any formal offers or movement on this matter. Supporters will be notified through our official channels and in accordance with the Hong Kong Stock Exchange.
"The key point to make regarding the ownership of the football club is that Carson Yeung does not wish Birmingham International Holdings Limited to lose its listing status in Hong Kong and a full disposal of the club would hinder those plans.
"Carson Yeung is personally in preliminary discussions with some buyers from Asia. I believe it may be his ultimate intention. However, he is working to his own strategy on how to achieve this.
"Of course, I fully understand why fans fear for the future of the club. But, fortunately, I have good people working back in England who have continued to ensure the smooth running of the club on a day-to-day basis."