Rangers: Malcolm Murray denies Rangers salary role
Last updated on .From the section Rangers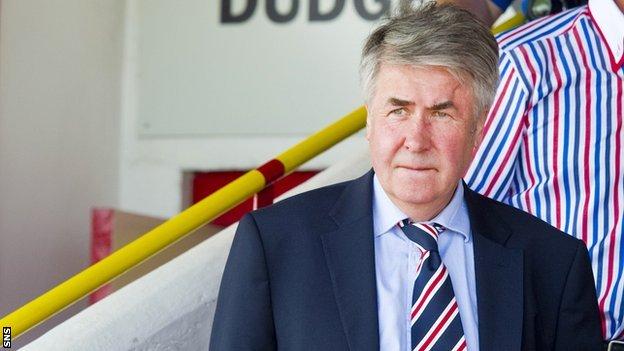 Former Rangers chairman Malcolm Murray says claims he is responsible for the salaries of current and former club executives are "misleading".
Rangers earlier this week for the 13 months to June.
And chief executive Craig Mather indicated that payments, such as £933,000 to his predecessor, Charles Green, were "decided" by Murray.
But Murray responded: "His remuneration was never certified by me."
Green's pay included severance and a bonus, while finance director Brian Stockbridge received around £400,000, including a bonus.
"It was a decision taken by the remunerations committee and the chairman at the time, which was Malcolm Murray," said Mather.
"So Malcolm Murray decided the remunerations for Charles Green and Brian Stockbridge and unfortunately the directors are duty bound to honour those scenarios historically."
However, in a lengthy statement, Murray said: "In the interest of transparency and honesty, I feel I must respond to Craig Mather's comments on remuneration.
"I joined the board on the recommendation of the institutions to instil a high level of corporate governance at Rangers.
"This proved to be very difficult as I, Phil Cartmell and Walter Smith were outvoted by the Green placements at every turn.
"The contracts I was shown last summer were significantly higher than current levels and I struggled to get them down."
Murray , and was replaced with former manager Walter Smith, following weeks of in-fighting on Rangers' board.
Now a group of shareholders who want Mather and Stockbridge removed from their positions of power will .
Murray claims that, while he was chairman, the club's nominated adviser and broker had backed him in his bid to reduce the salary payments.
"Cenkos and I tried again to lower them at IPO but found severe resistance," he claimed.
"Pre-IPO, I was the only non-executive and as a private company there was no remuneration committee.
"Craig Mather was proposed by Charles Green and rejected by me and two other board members. His remuneration was never certified by me.
"When Phil Cartmell left, Craig Mather was interim CEO and remuneration was not confirmed. These are symptoms of why the shareholders and fans demand change.
"Craig Mather's assertion that I decided the executive salaries is misleading and vexatious.
"In fact, Phil Cartmell was chairman of the remuneration committee, which never met once despite his attempts, and he is on record at being unhappy with levels of remuneration."