Joe Hart: Roy Hodgson should be concerned about goalkeeper's form

By Phil McNulty
Chief football writer
Last updated on .From the section Football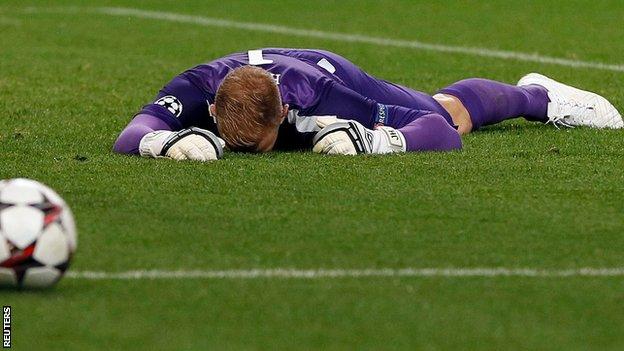 Manuel Pellegrini used the default option of refusing to discuss individuals when asked to deliver his thoughts on a matter of growing concern for Manchester City and England.
But no words were needed from the Chilean: goalkeeper Joe Hart's desperate performance as City were swept aside by Champions League holders Bayern Munich at Etihad Stadium spoke for itself.
If Hart's display in City's 3-1 defeat could be measured in confidence it would barely register. And now the man who has been undisputed number one for club and country for so long has reached crisis point.
And in such reduced circumstances come tough decisions not only for City boss Pellegrini, but also for Roy Hodgson, whose England side face two crucial World Cup qualifiers against Montenegro and Poland at Wembley over the next fortnight.
Pellegrini can consider the decision at something approaching his leisure but Hodgson, not exactly a gambler by nature, will surely not even contemplate changing his goalkeeper so late with England's campaign still in the balance.
Hodgson, watching on at the Etihad, will still have felt a shiver at watching a player he has counted on for so long perform so unconvincingly.
It is still unlikely a man as inherently cautious as Hodgson will repeat predecessor Steve McClaren's 'Scott Carson moment', when he replaced Paul Robinson for the deciding Euro 2008 qualifier against Croatia at Wembley with disastrous results.
Hart, 26, was certainly not alone in his misery as Pep Guardiola's superb Bayern inflicted torture on City for 75 minutes until they effectively declared. He was, however, the sad symbol of a tough night as City once again went into retreat mode when faced with the elite of the Champions League.
The nightmare began with a feeble attempt to stop Franck Ribery's long-range effort after seven minutes. It was a shot that carried power but should have been dealt with comfortably, not helped into the net with an outstretched arm.
Thomas Muller added Bayern's second before Arjen Robben exposed Hart again with a shot he allowed in at his near post after an hour.
Bayern's victory was not simply the result of Hart's personal turmoil. Guardiola has inherited a magnificent side from Jupp Heynckes and they showed all the signs of mounting a formidable campaign to retain the trophy.
Yaya Toure, such a force in the Premier League, looked lumbering alongside the mobility and movement of the likes of Philipp Lahm, Toni Kroos and Bastian Schweinsteiger. This is not a criticism of Toure, simply admiration for City's wonderful opponents.
Pellegrini, understandably, focused on a City display that was lame in all areas but it is the continued struggles of Hart that will exercise his mind and Hodgson's in the days ahead.
Gone are the days when Hart's errors drew attention for their rarity. He is now making mistakes on the sort of regular basis that would worry any manager.
But will it worry Hodgson enough for him to make a change for England's upcoming games? For all Wednesday's evidence, logic suggests he will not drop him.
Hodgson has constantly stated his confidence in Hart and will be asked to repeat it when he announces his England squad on Thursday. He may just have his fingers crossed as the words leave his lips.
Hart was at fault for James Morrison's goal when Scotland were beaten at Wembley in August and invited criticism for his inability to deal with a corner which led to Fraizer Campbell's goal in City's loss to Cardiff this season.
He was also questioned for his part in a full-on defensive fiasco as City's defence was caught out by a long ball that led to Andreas Weimann's winner for Aston Villa on Saturday.
The list of mistakes is growing. And while Pellegrini may be able to afford to take Hart out of the firing line for a few games and draft in Costel Pantilimon, Hodgson will believe the stakes are too high for similar alterations in strategy.
Hart's timing is bad as his latest slipshod errors came 24 hours after Fraser Forster underlined his growing authority and competition for an England place with an outstanding display in Celtic's 1-0 defeat against Barcelona.
Forster would no doubt relish the chance despite the pressure it will bring - but Hodgson may just remember the consequences suffered by McClaren when he took such emergency action over his goalkeeper in 2007. He was out of a job a day later.
Manchester City's supporters let out a collective groan as big screens replayed Hart's error for Ribery's goal in gory, unforgiving detail. Hodgson may have groaned inwardly himself as Pellegrini turned away towards his technical area in dismay.
The clock may be ticking for Hart if the decline continues - but the importance of England's imminent internationals, the defining role they will play in the attempt to qualify for Brazil next summer and the risks of such a significant chance will surely spare him from losing his place.