SPFL agrees deal with drinks firm

By Chris McLaughlin
Senior Football Reporter, BBC Scotland
Last updated on .From the section Football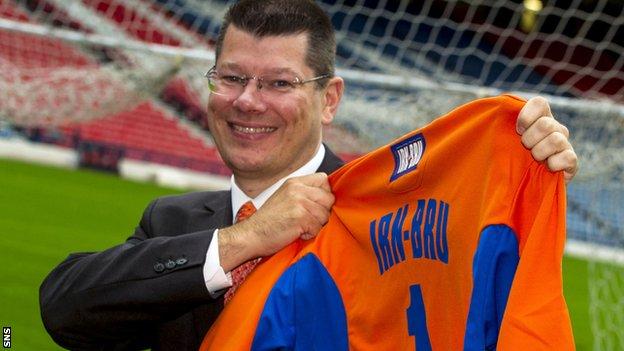 The Scottish Professional Football League has signed a new sponsorship deal with Irn Bru believed to be worth a "substantial six-figure sum".
The figure for Scottish-based beverage company AG Barr for their beverage to become the league's official soft drink was confirmed by a SPFL source.
But the league is continuing its search for a main sponsor.
Irn Bru was the sponsor of the Scottish Football League for six seasons before this summer's league merger.
SPFL chief executive Neil Doncaster said: "It is a very positive sign to the market that such a strong brand has invested in the new SPFL set-up."
AG Barr head of marketing Adrian Troy also welcomed the three-year agreement.
"We're proud that our deal with the SPFL lets us extend our support to the clubs across all four divisions," he said.
Doncaster revealed the search for a title sponsor of the Scottish Professional Football League and League Cup continues but refused to put a time scale on any announcement.
"We remain in discussions with a number of different bodies around League title sponsorship and also League Cup sponsorship," said Doncaster. "Those conversations will continue.
"It is important that we take the time to partner with the right organisation. It is important not to put time scales on this. It is important to work with the various brands that we are talking to and in time, be able to announce the right brand and the right fit for the SPFL.
"We have all sorts of licensing deals and we have a very good broadcast deal.
"I think today's deal demonstrates the confidence that exists within the SPFL and within Scottish football in general."